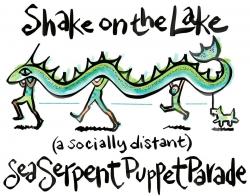 After the En Plein Air Festival is done, stick around and watch the Socially Distant Sea Serpent Puppet Parade on Saturday, September 19 from 3-5pm. The starting point for the parade begins at 3750 Walker Road in Perry and ends at the Perry Public Beach.
It's been well over 30 years since Perry had a Sea Serpent Parade, and almost 165 years since hotel owner, and Perry folkloric figure, A.B. Walker, designed the first Silver Lake Sea Serpent puppet with a painted canvas, waterproofing, a hose, and a bellows back in 1855. That "hoax" was indeed the first instance of community puppetry in Perry, NY, but by no means is it the last!
In collaboration with the Arts Council for Wyoming County, the Warsaw Public Library, the Wyoming County Chamber of Commerce and the Wyoming County Health Department, SOTL and NYSPF, along with 50 community puppet-makers are joining forces to once again create a community puppet of our very own Silver Lake Sea Serpent! We designed and built the head and tail of the puppet. Those 50 community members are making individual sections of the body. Together, masked, and spaced 6 feet apart with our individual puppet pieces, not only are we going to be safe and socially distant, but we will have a sea serpent puppet that is the length of a football field, parading through the Silver Lake Institute.
Click below for a MAP OF THE PARADE ROUTE!

Sea Serpent Puppet Parade Route
Tweet