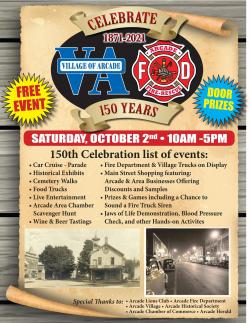 The Arcade Area Chamber of Commerce is collaborating with the Village of Arcade, the Arcade Fire Department, and the Arcade Historical Society to celebrate the 150th Anniversary of the Village of Arcade and its Fire Department. All of these organizations are working together to put on a day of celebration Saturday, October 2, 2021.
This day celebrating the Village's 150th anniversary will run from 10am to 5pm. One event of the day is a scavenger hunt to visit participating businesses and several Village Electric, Highway, Police and Fire Department vehicles parked along Main Street. Visitors will collect stickers to place on their maps at each location. Once they have completed their map, they turn it in for a chance at a prize at the Arcade Historical Society's exhibit about the Village's and Fire Department's 150 year history at the Old Fire Hall, 15 Liberty Street. This exhibit will be on display for the rest of the year.
Other attractions: the day will start with a procession of vintage cars driving into town and then parking at the elementary school parking lot for a car cruise; there will be music with local bands playing in several locations downtown; each Village vehicle/truck will have a person to describe what that piece of equipment does and stamp each visitor's map; "The Jaws of Life" rescue equipment will be demonstrated on West Main Street; chances will be sold for blowing the siren on the fire truck; wine and beer tastings will be offered and food trucks will also be parked along Main Street. The Village Historian, Jeff Mason, will give walking tours featuring past Village and Fire Department officials buried in Village cemeteries. Businesses are encouraged to have $1.50 offerings in recognition of the 150th anniversary.
Click below for a map of the events/activities.

Event Map
Tweet