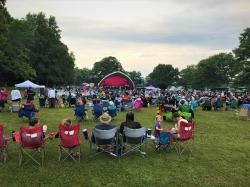 | | |
| --- | --- |
| Start Date: | July 27, 2019 2:45pm |
| End Date: | |
| Location: | Archery Field, Letchworth State Park. |
| Website: | http://nysparks.com |
| Contact Phone: | 585-493-3600 |
The BPO will perform classical & pop favorites at 8pm culminating with fireworks over the gorge at 9:30pm. Bring blankets/chairs and enjoy this incredible evening. Daytime activities include food/beverage vendors, artists, and performances by Shake on the Lake.
All performances will be at the Archery Field Overlook, right next the Castile entrance to the Park. The schedule of events is:
2:45pm - Miche' Frambro - Guitarist - Miche's performances fuses elements of flamenco, jazz, classical, pop and soul into a style all his own
3:45pm - Karen & Tim Canning - Steel Drum performance - enjoy the sounds of the steel drums to put you in a festive mood with a twist of Caribbean style.
5pm - Musical performance by Shake on the Lake
5:30pm - Shake on the Lake performs "As You Like It"
9:30pm - Grand Fireworks over the Gorge
Parking areas: Lower Falls, Octagon, Trailside Lodge - handicap accessible shuttles run beginning at 4pm.
$10 parking entrance fee may apply. Concerts are free to the public.

BPO in Letchworth Schedule of Events
Tweet