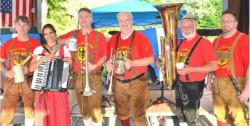 Experience all things German - at Attica's GermanFest on Saturday, August 28th from 4-9PM at Memorial Park on Exchange Street in Attica.
Gates open at 3:30pm. Music from 4 to 9PM. Admission $5, 21 and over, 12 to 21 $2, under 12 free.
Featuring GERMAN and Domestic Beers, Bratwurst, Knockwurst, Sauerkraut, German Potato Salad, Potato Pancakes. Also serving Hot Dogs, Hamburgers, and Home-Made Potato Chips.
Germanfest is hosted by Attica Lion's Club.
Tweet