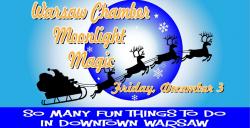 Celebrate the season in the Village of Warsaw! There will be events, goodies, Santa and plenty of shopping sales for you and your family to enjoy.
On December 3rd, enjoy these events and more taking place in the Village:
WARMING BONFIRE with cocoa & smores @ Liberty Way 5:30-7:30 pm
CHILI CONTEST 5:00-8:00 pm
SANTA AT THE WARSAW MOOSE 4:00-6:00 pm
CRAFTERS AND VENDORS AT THE WARSAW MOOSE OF COMMERCE
PHOTOS WITH CARSLON'S AT THE WARSAW MOOSE
GRINCH STORY TIME AT LIBRARY 6:00 pm
FIRE PARADE 7:00 pm start, arriving downtown at approx 7:45 pm
SANTA LIGHTING THE MONUMENT approx. 8:00 pm
MERCHANT SALES AND RESTAURANT SPECIALS All Day
ELF ON A SHELF! Participating locations will have Elves to find! Prizes for kids!
HOMETOWN HEROES Banner Retirement Ceremony at Liberty Way 6:30 pm
DANCERS AT THE MONUMENT 7:30 pm Just Dance and Dance Creations
MUSIC AND CAROLING throughout downtown area
HOLIDAY CHARACTERS strolling downtown 5:00-8:00 pm $ LUMINARIES (weather dependent) to light up the village
LUMINARIES (weather dependent) to light up the Village
Moonlight Magic is presented by the Warsaw Chamber of Commerce and made possible by these generous sponsors: Ace Hardware, Amber Lantern Brewing Company, Bud's Delicatessen, Carlson's Studio, Five Star Bank, Genesee Community College, Genesee Valley Federal Credit Union, KP Construction of Attica, LLC, Light Years Behind, Main Street Insurance, Montgomery Shoe Store, Montgomery's Building Supplies, Relax Salon & Spa, Remember When Creekside Shoppe, Silver Lake Family Restaurant, Spotlight Theater of Warsaw, Stellar Spirits & Wine, Valley Computers, WYCO Construction, Warsaw Gallery, Warsaw Save-A-Lot, WCJW, Yummies.
Click the flyer below for event details!

2021 Warsaw Moonlight Magic
Tweet