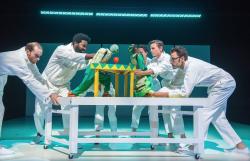 The New York State Puppet Festival will be the first of its kind in the state – a gathering of game-changing, internationally renown puppet artists and masters to perform their works and discuss emerging topics in the art form. The festival will take place from June 14 to 24, 2018.
Many cultures have developed their own puppet arts traditions. Today, puppeteering is flourishing with the collaboration of artists from around the world to share their art form to each other. The artists that Josh has brought together exemplify this global story, while also highlighting artists who are challenging the media to tell new stories.
Artists coming to the inaugural festival include:
Concrete Temple Theatre to present the internally-acclaimed family show: Gepetto: Extraordinary Extremities
Sam Gold to present his brand of Czech-marionette and Balinese shadow-inspired piece, War with Newts
Dan Hurlin will screen his documentary Puppet with a panel discussion featuring Dan, the film's director David Soll, and the Jim Henson Foundation's Manager Z Briggs.
Tom Lee and Lisa Gonzales will premiere their dance/puppetry hybrid piece Place (No Place)
Tom Lee will also present a shadow puppet piece for children, Tomte
Josh Rice will present his original puppet piece The Marooned
Fifth-generation traditional Japanese master puppeteer of Hachioji Kuruma Ningyo Theater, and designated National Intangible Folk Treasure of Japan, Koryu Nishikawa V, will headline the festival and give workshops in traditional cart puppetry (kuruma ningyo) and 3-person manipulation technique (sanninzukai), as well as performing traditional kuruma ningyo performances, including the Sanbaso.
Tweet