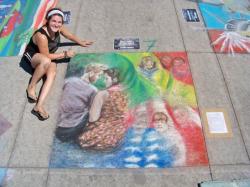 | | |
| --- | --- |
| Start Date: | July 8, 2017 8:30am |
| End Date: | |
| Location: | Perry Village Plaza, Perry, 14530. |
| Website: | http://perrychalkfestival.com |
| Contact Phone: | 585-237-5375 |
Come to downtown Perry for a Saturday of fantastic food, fine art and fabulous summer fun at the eleventh annual Perry Chalk Art Festival.
On July 8th, over 50 chalk artists descend upon downtown Perry to create fine works of temporary, outdoor art. Festival-goers can also expect moving music from Kelly's Old Timers, The Brothers Blue and Creek Bend, an opportunity to taste cuisine from fine regional restaurants, projects for kids, and delicious homegrown produce and unique gifts at the extended Farmers' Market and Perry Public Market. The Chalk Art Festival runs from 8:30AM to 4:30PM, with the Festival Plaza closed through Sunday afternoon for extended artwork viewing pleasure.
Stroll downtown Perry and see professional artists shape gigantic pastel artworks on the theme "Here Today, Gone Tomorow". Cheer on youth artists competing for prizes and encourage young Aspiring Artists to try chalking. Get your face painted, watch a juggler, create a craft and try other fun chalk and kid activities.
Music lovers can experience live performances all day on the outdoor festival stage. Kelly's Old Timers will have the crowd up and ready to square dance, waltz, polka, or just tap their toes and have fun. Late morning, the Brothers Blue will take the stage with both traditional and original Americana music. And bluegrass phenomenon Creek Bend will close out the day with a special blend of contemporary and traditional bluegrass, seasoned with a smattering of Cajun, country and humor.
And good news for shoppers and strollers! The combined Public and Farmers' Markets will offer 65 vendors to peruse and visit.
Foodies can feast their eyes on fantastic chalk art and then fill their stomachs with delectable dishes at the "Taste of Summer" fine dining event from noon-2:30pm. Tickets are 20 for $15 pre-sale, or a dollar each at the event. For two tickets per taste, festival-goers get a sample of a succulent seasonal dish created by regional chefs and inspired by the freshest of local ingredients. Regional wineries and breweries will also be on site.
Artists will put finishing touches on their works by 3:00pm and the 4:00 award ceremony will feature artist and sponsor recognition and prizes.
For a complete event schedule, please refer to www.perrychalkfestival.com. If significant rainfall is forecast, the Chalk Art Festival will take place on Saturday, July 15th.
Tweet