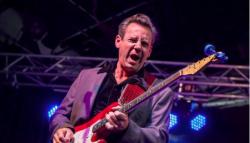 Join Us for a Hunter's Hope Benefit Concert at River Lodge - Featuring the Tommy Z Band
In WNY the Tommy Z Band needs no introduction. Tommy Z is a 10 Top Billboard Blues Artist who tours around the world, a Buffalo Music Hall of Fame Inductee, Guitar Instructor and Radio Host on WBFO 88.7.
Doors Open 5:15

The Lumber City Church Band 6:15

Tommy Z Band 7:00

Hunter's Hope 8:30

The Harp of David 8:45 Refuge From the Storm

Skylighters Fireworks Show 9:00
VIP tickets are available, and include Seating, Access to the Luxury Wing of the Lodge, Two Private Bathrooms, Beer, Water, Soft Drinks (Wine if requested). Fruit, Cheese, Crackers, Crudité, Light Snacks and Cookies.
Visit River Spring Lodge's website for more information on this concert and to purchase tickets,
Tweet