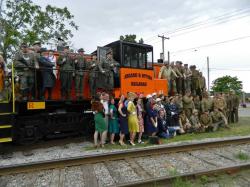 | | |
| --- | --- |
| Start Date: | June 8, 2019 10:00am |
| End Date: | |
| Location: | Arcade & Attica Railroad, 278 Main St, Arcade. |
| Website: | http://aarailroad.com |
| Contact Phone: | 585-492-3100 |
Come enjoy the 3rd Annual Arcade World War II Weekend at the Arcade & Attica Railroad. This is a family friendly, educational event, fun for all ages. June 6, 2019 marks the 75th Anniversary of the D-Day Invasion of Normandy. In recognition of this anniversary, the theme of the 2019 event will be D-Day on the Western Front of the Eastern Theater of Operations of WWII.

Come out to see the Living History Displays and ride the rails with the WWII Axis & Allied Living History groups. New exciting features added each year including military vehicles and live firing demonstrations. The Buffalo Dolls will be performing on Saturday, June 8th and the Buffalo Heritage Squadron will be doing a flyover with their 1943 SNJ-4 Advanced Navy Trainer airplane on Sunday, June 9th.
Click here for the Facebook Event.
Tweet