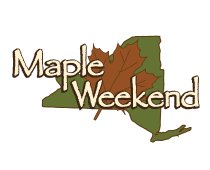 | | |
| --- | --- |
| Start Date: | March 25, 2017 10:00am |
| End Date: | |
| Location: | Located at various sugaring houses within Wyoming County. |
| Website: | http://mapleweekend.com |
Family-oriented county-wide event. Visit maple syrup houses and enjoy maple syrup, candies, etc. as you watch how it is made! Maple Weekend hours are 10am - 4pm unless otherwise noted.
Click on the businesses below to learn more about the participating locations in Wyoming County:
A&A MAPLE
1084 Creek Road, Attica, NY 14011
(585) 813-6623
2.5 miles South on Rt. 98 from the village of Attica.
ARCADE CENTER FARM PANCAKE HOUSE
7298 Route 98, Arcade, NY 14009
Open 8am – 2pm
(585) 492-3821
We are 1 mile North of the village of Arcade on Route 98 North. Stop in and enjoy an all-you-can-eat pancake breakfast!
BRAY FARMS
1597 Bray Road, Arcade, NY 14009
(571) 230-4812
State Route 98 South from Arcade to Bray Rd., we are 1 mile on Bray, over the hill and on the left.
BYRNCLIFF RESORT AND CONFERENCE CENTER
2357 Humphrey Road, Varysburg, NY 14167
(585) 535-7300
Dinners – March 24-25, 4PM – 10PM
Breakfast – March 26, 10AM – 1PM
On Saturday and Sunday, enjoy maple inspired dinner specials from 4PM-10PM. On Sunday, experience an all-you-can-eat pancake breakfast buffet with pancakes, Belgian waffles, French toast, omelets and eggs made-to-order, PLUS bacon, sausage, home-fries, toast, fruit and beverages. Also, special get-away packages are available for Saturday, March 25 – call to make reservations!
GEORGE'S MAPLE PRODUCTS
1766 Route 77, Strykersville, NY 14145
(585) 591-8132
We are on the West side of Route 77, 1 ½ miles North of Route 20A or 3 miles South of Route 354.
HIDDEN VALLEY ANIMAL ADVENTURE
2887 Royce Road, Varysburg, NY 14167
Open 9am – 1pm
(585) 535-4100
All-you-can-eat pancakes and Crème Brule French Toast with Boxler Maple Farm Syrup. Reservations are recommended so please call to reserve a table.
KIBLER MAPLE PRODUCTS
1802 Perry Road, North Java, NY 14113
(585) 535-7854
West of Route 98, East of Route 77, South of Route 20A. Next door to Reisdorf Feed Mill and the railroad tracks.
KIRSCH'S MAPLE
317S Route 77, Varysburg, NY 14167
(58S) 535-7006
Easy to get to from any direction. located on Route 77 just 3 miles South of Route 20A. From East
Aurora take Route 20A East then Route 77 South. From Arcade take Route 98 North to Route 77 North.
MAPLE MOON FARMS, LLC
1058 Attica Gulf Road, Attica, NY 14011
(585) 409-3975
From downtown Attica, take Main St. East past the high school (becomes Route 238). Gulf
Road is the first left past the railroad tracks. We are 1.5 miles up Gulf Road on the right. From Route
20A, take Route 238 North for about 8 miles. Turn right on Gulf Road. Stop in and enjoy an all-you-can-eat pancake breakfast!
MERLE MAPLE FARM
1884 Route 98, Attica, NY 14011
(585) 535-7136
We are on Route 98 (AKA: Creek Road) 6 miles south of Attica, or 2 miles north of Varysburg. Merle Maple will be having tours, samples, wagon rides to the woods, a kids' corner, new technology, an air cannon, beautiful scenery, and our whole family! Lunch options include maple chili, maple hot dogs, maple hard-boiled eggs, maple cotton candy, maple pulled pork, maple soft serve, maple rasberry twist ice cream, and more!
MOHLER MAPLE PRODUCTS
1627 Route 19, Wyoming, NY 14591
(585) 495-6941
On Route 19, just 3 miles North of Warsaw or 1 ½ miles South of the Village of Wyoming.
OVER THE HILL MAPLE
2089 Maxon Road, Varysburg, NY 14167
(585) 535-7971
We are located on Maxon Road, ½ mile North of Route 20A on the right hand side.
SAGE FAMILY MAPLE, LLC
4449 Sage Road, Warsaw, NY 14569
(586) 786-5684
From Warsaw, go North on Blackhouse Road, left on Dale Road, go ¼ miles and turn left on Sage Road. The sugarhouse is 1 mile on the right. From Attica, head east on East Main by the Attica High School. Turn right on Vernal Road, bear right on Comet Road. Take a Left on Sage Road and the sugarhouse is the first place on left.
SILER'S SUGAR SHANTY
2401 Pee Dee Road, North Java, NY 14113
(716) 474-3986
Pee Dee Road goes East from the intersection of Routes 98 and 78 just South of North Java. From Buffalo, take Route 20A to Route 78, turn right, go 15 miles to Pee Dee Road. We are 1 mile on the left (North side) of Pee Dee Road.
SUDZY'S PURELY MAPLE
1076 Maxon Road, Attica, NY 14011
(585) 591-1192
Our sign will be on Route 354 and Maxon Road. Go South on Maxon Road from Route 354 ½ miles. From Route 20A, go North 4.5 miles, we are the West side.
SWEET TIME MAPLE
5680 Webster Road, Wyoming, NY 14591
(585) 495-6803
Stop in and enjoy free samples, pancake breakfast and tours of the operation!
WOLCOTT MAPLE SYRUP PRODUCTS & EQUIPMENT
1247 Dale Road, Dale, NY 14039
(585) 786-3893
From Attica go East on Main Street to East Main Road to Vernal Road to Dale Road. Take a left on Dale Road and the sugarhouse is on the right at North edge of town. From Warsaw, take Wyoming Street to Dale Road to the sugarhouse. From Wyoming, go South on Route 19 to Fox Road and take a right on to Dale Road.
ZIMPFER'S MAPLE PRODUCTS
3028 Merle Road, Attica, NY 14011
(585) 591-1190
From the Village of Attica, go South on Exchange Street for 4 miles, then take a right on Merle Road in 1 mile.
Tweet