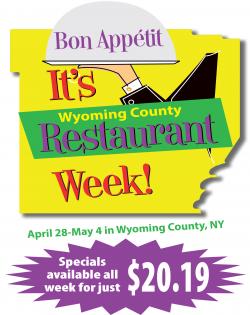 Wyoming County Restaurant week is April 28-May 4, 2019, wherein participating restaurants in Wyoming County will have special menu items available for $20.19. Menu items can include anything from a delicious single entrée to a multi-course meal (including dessert!)
The idea behind Wyoming Restaurant Week is to promote some of the best places to eat, and get you out and about enjoying an adventurous new meal.
2019 participating restaurants are:
For a list of availalbe specials, visit the Wyoming County Restaurant Week website!
Tweet