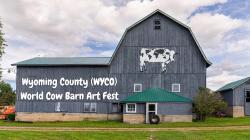 Join us for fun, food, music and so much more! We will be celebrating a new World Cow Bike Tour with several new murals spread across Wyoming County.
July 9th at 3pm at 3422 Stroh Rd, World Cow Barn Attica, NY.
Get in on the morning WyCo Hill Country bike ride organized by Campus Wheelworks. We'll be celebrating WyCo Agricultural History with kids' art and games, local farm to table food, beverages and ice cream.
Live music from Penny Whiskey, Basswood Bennington Bluegrass, Shakey Stage & more!
Special thanks to the sponsors: Attica Historical Society, Wyoming County Arts Council, WyCo Chamber & Tourism, Campus Wheel Works, World Cow, Musician Arden Yonkers, Burly Brothers Country Butchery and The Vintage Cow.
Tweet