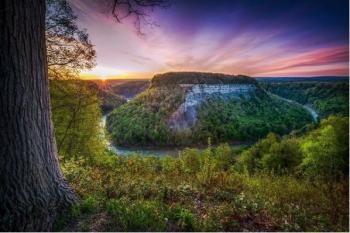 Our home, your adventure!
Wyoming County, NY is your four season destination for outdoor adventure and family fun. From "Grand Canyon of the East" Letchworth State Park to the exotic safari rides at Hidden Valley Animal Adventure, to a ride on the historic Arcade and Attica Railroad, to an overnight camping stay at one of our campgrounds, we have the fun and adventure to fit anyone's needs.
Explore our website, plan your trip, and we'll see you soon.
---
Main Information Center (Warsaw)
Visit our office in the Ag & Business Center in Warsaw, NY for tourism information. We have free materials on Letchworth State Park, attractions, businesses & more as you explore our region! Get directions.
Satellite Information Center (Perry)
Visit Endlessly Outdoors Company in Perry, NY for tourism information, maps, hiking guidance, apparel & more when planning your outdoor adventure! Get directions.
---
Wyoming County Fun Facts
Largest dairy producer in New York state
Home to the first wind farm in the Northeastern United States
Home to more wind turbines than any county in New York: Over 237 and growing!
Receives 200+ inches of annual snowfall
Home to the only fully operational, steam-operated locomotive in New York
Population: 43,424
2.5 million+ visitors per year