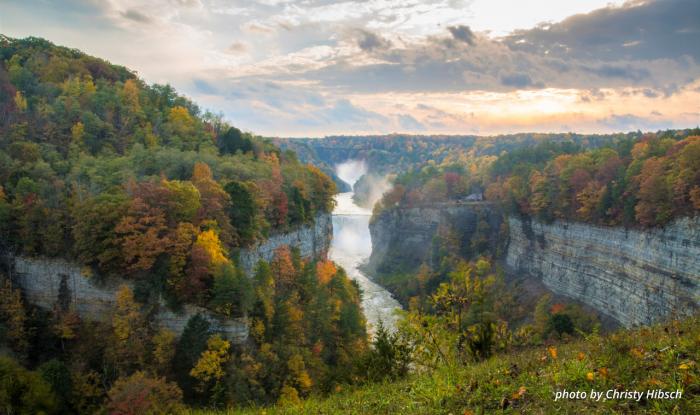 KNOWN AS THE "GRAND CANYON OF THE EAST"...
the park comprises 14, 350 acres – approximately 1 ½ miles wide and 17 miles long – of scenic magnificence along the mighty Genesee River. The steep Genesee Gorge walls, the river winding below, the plunge and spray of dramatic waterfalls and the lush forest all contribute to make the park one of the most notable examples of waterfall and gorge scenery in the eastern United States. Within the park the Genesee River roars over three major waterfalls, one of which is 107 feet high. Each year the river cuts deeper into the dramatic cliffs which approach 600 feet in height.
Whether you are here for a leisurely hike on one of our many trails, to stay overnight in one of our rustic cabins, camp in your RV or tent, swim in the Olympic-size pool, have a picnic in a shelter or in a nice secluded and romantic spot, fish in the river, visit our state-of-the-art Humphrey Nature Center, dine at Mr. Letchworth's former residence, The Glen Iris Inn, take a Hot Air Balloon Ride, raft on the Genesee or simply sit on a bench and contemplate the sheer beauty of Mother Nature, this is the place you were meant to be at this very moment. Take a long, deep breath and know that you have arrived in a place of rich history, stellar beauty and rejuvenation. Welcome to Letchworth.
---
Here are just a few quick facts about Letchworth State Park
Grand Canyon of the East – Voted the #1 State Park in the United States by Reader's Digest
The park spans over 14,000 acres
There are ~66 miles of hiking, biking, snowshoe, cross country skiing and/or horse trails
Approximately 800,000 visitors each year
Letchworth features three spectacular waterfalls
Gorge walls rise up to 600 feet high
Rustic cabins as well as glamping options are available inside the park
State of the art Humphrey Nature Center
The Glen Iris Inn is located within the park
Home of Adventure Calls Outfitters whitewater rafting and Balloons Over Letchworth
Learn More about Letchworth State Park
---
Park Information:
(585) 493-3600
1 Letchworth State Park
Castile, NY 14427