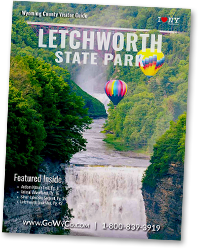 Want a FREE Wyoming County Visitor Guide?
The Wyoming County Visitor Guide is your guidebook to all things Wyoming County. From events to business listings, to maps of the area, the guide is your key to unlocking all that Wyoming County has to offer.
Please fill out and submit the following form and we will mail one to you.
You may also click here to view or download the guide as a PDF!
Also don't forget to follow us on FACEBOOK and INSTAGRAM!
Thanks for your interest in Wyoming County.