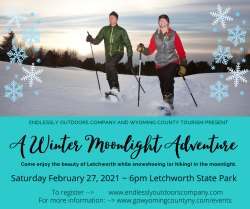 On February 27 at 6pm, join Endlessly Outdoors Company and enjoy the beauty of Letchworth State Park while snowshoeing in the moonlight.
The event starts with a brief lesson on snowshoeing and navigating the trails. You will be snowshoeing through beautiful forests while traveling to the open meadow to see the moon rise over the canyon. You will have the opportunity to enjoy some Hot Chocolate while viewing the moon rise. You will then proceed on finishing your trek in the moon light.
The entire event is approximately 90 minutes (maybe less depending on how long we observe the moon rise). The event will have snow shoes available but they are on a first come - first serve basis (at no additional fee).
We have provided the option to reserve them when registering for this event. Specific details of where to meet - what to wear/bring etc will be emailed to your at least 4 days prior to the event.
The event will occur with our without snow (in the event of no snow, we will be hiking).
To register, visit www.EndlesslyOutdoorsCompany.com or call 585-969-4441.
Tweet