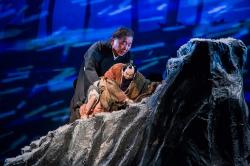 The second in-person New York State Puppet Festival takes place June 23 to July 3, 2022 across multiple venues in Perry, NY! Located minutes from Letchworth State Park, this international festival of contemporary and traditional puppetry takes places over ten days, featuring puppet art exhibitions, performances, parades, and workshops!
The festival calendar of events includes performances, such as:
Kayfabe/Remember When They Told you This Was a Helicopter?
Late Night Puppet Talk Show
NYSPF Puppet Slam!
Sunflower/To Be Alive
Shank's Mare featuring fifth-generation Japanese Puppet master, Koryu Nishikawa V
As part of the festival, an art exhibition of Relentless! Bread and Puppet's Political Theater, 1963-2022, will be displayed at the Arts Council for Wyoming County from June 23 to July 23.
For a full list of events, times, and prices - visit the New York State Puppet Festival website!
Tweet