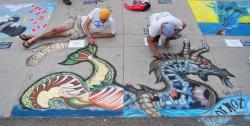 Event Schedule-Perry Chalk Art Festival
Please visit us here and on Facebook for updates and more information as the event date draws closer!
Music at Festival Plaza (unless otherwise noted)
8:30AM - 10:30AM
Kelly's Old Timers - round & square dances, classics
10:00AM - 12:30PM
Live music with Elise Kelly at Farmers' Market stage on Borden Ave
10:45AM - 1:15PM
Creek Bend - bluegrass & humor
1:30PM - 4:15PM
The Brothers Blue - American Folk Traditional Trio
---
Entertainment
10:00AM - 2:00PM at Festival Plaza
Arm & hand painting AND glitter tattoos with Fancy Faces
10:30AM - 1:30PM at Festival Plaza
Air Sculpture with Janice Spagnola - balloon art
---
All Day
Freestyle chalking - We supply the chalk and the space so everyone can create a mini-masterpiece
Chalking wall - it's free for all!
Aspiring artists - ages 6-9 - come to the registration desk
Shake on the Lake pop-up performance
Pop up dance performances by KM Dance Center
---
Tour de Perry
Perry Village Park, Lake St
8:00AM: Mass starts for bicyclists
More info at Tour de Perry's Facebook page.
Register by clicking this link.
---
Perry Chalk Art Festival
Downtown Perry
8:30AM - 4:30PM
---
Perry Farmers' Market
Enjoy fresh produce, meats, cheeses, pastries, fresh cut flowers, and more!
Borden Avenue, Downtown Perry
8:30AM - 1:00PM
See more at Perry Farmers' Market's Facebook page!
---
Perry Public Market
Enjoy a wide selection of vendors offering unique, handmade goods.
Downtown Perry
8:30AM - 4:00PM
---
Food Truck Vendors
Buckaroos: specializing in poutine
Decisions: specializing in paninis & more
Kona Ice: specializing in Hawaiian shaved ice
Smoke in the Valley: specializing in BBQ
Follow us on Facebook & Instagram for regular updates on exciting happenings in our community - and don't forget to tag us using #WyCoApproved.
Tweet