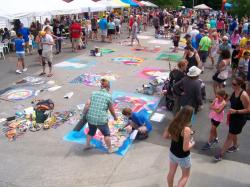 Perry Chalk Art Festival
Downtown Perry
8:30AM - 2:00PM
Artist recognition, prizes and closing ceremony
4:00 - 4:30PM
---
Event Schedule-Perry Chalk Art Festival
Please visit Facebook for updates and more information on the event!
8:00AM - 2:00PM
Aspiring Artists Event for Ages 5-9. Register at the Event Table.
8:00AM - 10:30AM
Adult Chalk Artist Registration
8:30AM - 3:00PM
Adult Artists Chalking
11:00AM
Youth Artist Registration
11:00AM - 3:00PM
Youth Artists Chalking
11:00AM - 3:00PM
Art Clubs Chalking
4:00PM - 4:30PM
Artist recognition, prizes and closing ceremony
Music at Festival Plaza (unless otherwise noted)
8:30AM - 10:30AM
Kelly's Old Timers - round & square dances, classics
10:00AM - 1:00PM
Elise Kelly - original vocals & guitar at Farmers' Market
10:45AM - 1:15PM
Creek Bend - bluegrass & humor
11:45AM - 2:30PM
Johnny Bauer - covering all musical bases with vocals & guitar at Taste of Summer Lake Street stage
1:30PM - 4:15PM
The Brothers Blue - American Folk Traditional Trio
Entertainment
9:30AM - 3:00PM at Festival Plaza
Face painting with Mugsy the Clown and Fancy Faces
10:30AM - 12:30PM at Festival Plaza
Jason the Juggler - balloon art, juggling and more
All Day
Our guests, Craig and Jamie Rogers, create a 3D chalk art masterpiece. Check out their work on their website!
All Day
Freestyle chalking - We supply the chalk and the space so everyone can create a mini-masterpiece
Chance Auction
Girl Scout Craft Table
Sand boxes
Bounce house
Giant Jenga
Pop up dance performances by KM Dance Center & Genesee Dance Theatre
---
Tour de Per-'RY
Perry Village Park, Lake St
8:00AM: Mass starts for bicyclists
More info at Tour de Per'RYs Facebook page.
---
Perry Farmers' Market
Enjoy fresh produce, meats, cheeses, pastries, fresh cut flowers, and more!
Borden Avenue, Downtown Perry
8:30AM - 1:00PM
See more at Perry Farmers' Market's Facebook page!
---
Perry Public Market
Enjoy a wide selection of vendors offering unique, handmade goods.
Downtown Perry
8:30AM - 4:00PM

---
Taste of Summer Fine Dining Event
For three tickets per taste, festival-goers get a sample of a succulent seasonal dish created by regional chefs and inspired by the freshest of local ingredients.
Lake Street, Downtown Perry
12:00 - 2:30PM
Live music, tickets required
Tickets available at The Hole in the Wall, The Biblio Tech Cafe, Tompkins Bank of Castile in Perry, M&T Bank on Main St. in Perry & slb Salon & Boutique. Or make your purchase online!
20 tickets are $15 pre-sale or a dollar each at the event.
2019 Wyoming County Food & Beverage Guests:
Other regional Food & Beverage Guests include:
Battle Street Brewery
Lakewood Vineyards
Red Newt Winery
Standing Stone Vineyards
The Yard of Ale
Tweet