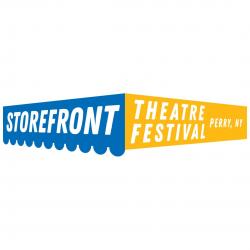 The inaugural Storefront Theatre Festival, a program of Shake on the Lake and the New York State Puppet Festival, brings you a night of six original works of puppetry and performance from local and international artists, from the windows of storefronts on Main Street in Perry, NY.
Audiences will watch from the sidewalks, and travel from show to show around the arts corridor on Main Street in Perry (between M&T Bank and Lake Street) and experience site-specific 10-minute performances from featured artists:
Sifiso Mabena (NYC/Zimbabwe)
Leah Ogawa (NYC/Japan)
Ashley Winkfield & Max Gayford (North Carolina & Perry)
Genesee Dance Theatre & Incandescent Dance (Perry & Rochester)
Seth Faergolzia (Rochester)
Josh Rice (Perry/NYC)
Total run time approx. 75 minutes. Come prepared to walk. Seating accommodations provided as needed.
*NOTE: Strict Health & Safety protocols will be enforced, in accordance with NYS Re-opening Guidelines for Outdoor Performing Arts Events. Face Coverings and Physical Distancing will be required for non-vaccinated individuals.
Tweet