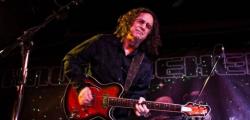 Join Us for a Lighthouse Station Benefit Concert at River Lodge - Featuring The Electric Rev Jimmie Bratcher!
The Electric Rev's shows are worry-free zones where the good-time mojo of rockin' blues sets hearts and minds, and maybe even souls free.
The entrance opens at 4:30
Jimmie Bratcher 6:15
Lighthouse Station 7:45
Harp of David 8:00
Skylighter Fireworks 8:15
VIP tickets are available and include Outside Seating, Access to the Luxury Wing of the Lodge, Two Private Bathrooms, Beer, Water, Soft Drinks (Wine if requested). Fruit, Cheese, Crackers, Crudité, Light Snacks and Cookies.
Visit River Spring Lodge's website for more information on this concert and to purchase tickets,
Tweet