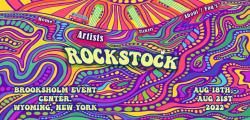 ROCKSTOCK is a multi-day multi-musical genre festival that started as a party five years ago and was so fun - it is now an annual fundraiser - featuring rock & roll, blues, southern rock and country performers.
ROCKSTOCK proceeds will benefit the ROCKSTOCK Youth Musicians Fund and allow us to continue this event to help fund education and lessons to young musicians in Western New York. There's so many great music schools and programs in our area available outside the public school system for these young artists and we want to help get some in these artists in programs/ camps/lessons that wouldn't have the opportunity otherwise. If we support this next generation of musicians they will rock us when we're older.
Click here to purchase tickets.
Dates/Times
August 18th-20th.
18th music starts at 6pm.
19th music starts at 3pm.
20th music starts at noon.
21st No music, just Wrap-up camping until noon.
Weekend passes available with and without camping.
Peformers
Headliners and performers include:
Boogie Long - Straight From the Bayou. Guitar Center King of the blues 2011.
Claudia Hoyser - Claudia Hoyser, is an American country music singer, songwriter and social influencer.
Erin Coburn - Cincinnati Native and perpetual misfit, Erin Coburn is known for her prolific songwriting and modern approach to American Rock and Roll.
Dr. Jeckyl - Hailing from Rochester NY, Dr.Jeckyl is an original band which has been together since 1979.
Monkey In A Bottle - Monkey In A Bottle, is a nearly 2 decade long musical journey, which is still unfolding.
Remedy Three - Remedy Three, is an original rock band with honest and vulnerable lyrics, with a bit of grit and a whole lot of hope.
Jackson Stokes – Jackson is a power house on guitar and tours the world with Devon Allman Band as lead guitar and singer, as well as helms his own band – the Jackson Stokes Band.
General Rules
Tickets are non-refundable. Rain or shine.
21 and over unless there as a musician or with a band. Permission can be granted, so remember that there will be minors in attendance under parental supervision.
All concert goers will be required to wear wrist bands to identify their ticket status.
Security and event organizers can remove anyone at any time, revoke your tickets and remove you from the property.
Don't enter the homes, if you do you will be removed.
Stay out of all buildings marked keep out.
Camping & Camping Rules
Is additional charge per person and will be combined with weekend pass tickets, limit all non hookup spots for tent and campers water and bathrooms available and one price for weekend no single nights because of limited availability and additional rules apply. Must sign camping agreement/rules on arrival to venue. Camping to be wrapped-up by noon an Sunday, August 21st.
Camping Rules:
No hook ups but plenty of bathrooms.
No fires & no grills
No cooking outside your camper or RV unless attached to RV and at your own risk. Safety first this is a safety and insurance issue.
Quite hours 1a.m. till 10 a.m. unless you are asked to turn it down by security.
Please be curtious to the owners and your neighbors.
Price for camping is per person not site.
All campers will be required to wear arm bands with their name on it.
Tweet