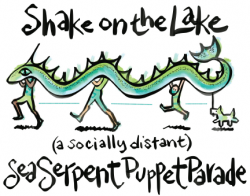 For the second year in a row, Shake on the Lake and the New York State Puppet Festival will collaborate with community members to create a large-scale pageant puppet of the Silver Lake Sea Serpent that will be paraded around Silver Lake. We will design the head and the tail. Community artists will design individual body pieces. We'll congregate at the Perry Public Beach and once assembled, this football-field length serpent, celebrating the history of the Silver Lake Sea Serpent, will parade around the grounds of the Silver Lake Institute, culminating in a ritual immolation of the puppet.
FREE to participate and watch! Social distancing and COVID safety protocols will remain in place.
Last year's event made Atlas Obscura! Read the full article HERE.
RSVP to the Facebook Event HERE.
Tweet