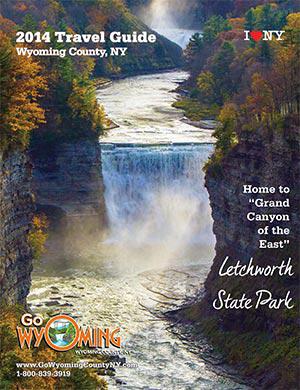 Wyoming County Chamber & Tourism ANNOUNCES RELEASE OF 2014 TRAVEL GUIDE
(Perry, NY) – The Wyoming County Chamber & Tourism is pleased to announce the release of the 2014 Wyoming County Travel Guide. This year's travel guide proudly features Letchworth State Park as the cover attraction and beckons readers to visit the "Grand Canyon of the East."
A total of 75,000 copies have been printed for use this year, and will be primarily distributed to information centers and rest stops across New York, the Northeastern United States and Eastern Canada. Guides will also be available at local attractions, restaurants and shops, and can be picked up at the Chamber office located at 6470 Rt. 20A in Perry.
"We are extremely proud of this year's travel guide," said Meghan Nulty, Vice President of Tourism & Marketing for the Chamber. "We've created a comprehensive travel piece covering all aspects of Wyoming County Tourism which gives us the starting point to continue to entice visitors into our beautiful county this year."
Area residents who are welcoming visiting family and friends are encouraged to stop by the Chamber office at 6470 Rt. 20A in Perry to pick up a free guide. Area businesses who would like to have a supply of travel guides are also encouraged to contact the Chamber at (585) 237-0230 or info@gowyomingcountyny.com.
The Wyoming County Chamber & Tourism is the gateway for doing business in Wyoming County and the catalyst for growth, advocacy and connection for our businesses and communities. Its mission is to create an environment that leads to the success and prosperity of business and community in Wyoming County by providing: educational seminars, leadership development, business assistance and guidance, cost saving opportunities, advocacy, recognition, connections, networking, advertising, exposure and promotion.
For more information or to become a member please call 585-237-0230 or visit the website at www.wycochamber.org.
Request your free copy of the 2014 Wyoming County Travel Guide today.