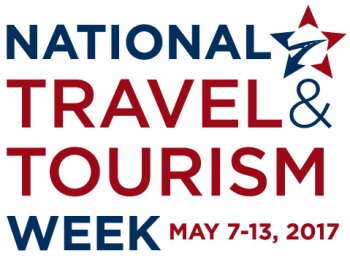 National Travel and Tourism week is May 7 – 13, 2017 and we were pleased to join with the Wyoming County Board of Supervisors in declaring it Travel and Tourism week in Wyoming County. The Wyoming County Board of Supervisors passed an official proclamation recognizing the week at the regular Board meeting on April 11, 2017.
To celebrate, the Chamber & Tourism office is hosting an exciting contest on Facebook. Starting May 5th, participants who like and share that week's contest post and like our tourism Facebook page will have the chance to win gift cards, tickets, apparel and more from businesses across Wyoming County including: the Arts Council for Wyoming County, Adventure Calls Outfitters, Attica Hotel, Byrncliff Resort, Charcoal Corral, Creekside Fabrics, the Deutsche Haus, East Hill Creamery, Hidden Valley Animal Adventure, Letchworth Pines, Main Street Grille, Silver Lake Brewing Project, Silver Lake Family Restaurant, Silver Lake Marine, Spotlight Theater of Warsaw, Spruce Ridge Golf Course, Grateful Grille, Wyoming Inn and Windy Brew.
The Wyoming County Tourism Facebook page is: www.facebook.com/wyomingcountytourism. The contest post will go live on May 5th, and run until June 2nd. Winners will be drawn each Friday during the contest (May 12, 19, 26, and June 2, 2017).
"Tourism is critical to the economic health of our county, and we are very fortunate to have almost two-hundred tourism related businesses in Wyoming County," said Scott Gardner, President of the Chamber & Tourism office. "Travelers are spending $41 million annually in Wyoming County which generates millions in state and local sales taxes, and the average savings per Wyoming County household from tourism generated taxes is $316. This is an important industry to our attractions, hospitality, and retail businesses across the county."
"We're excited that National Tourism Week will kick-off a month-long celebration of the tourism businesses that make us an incredibly popular four-season destination," said Eric Szucs, Director of Tourism and Marketing. "Letchworth State Park draws over 800,000 visitors a year, and the attractions, family friendly restaurants, events, art galleries and more give tourists an incredibly rewarding experience in Wyoming County."
National Travel and Tourism Week is an annual tradition that was established by a Congressional Resolution in 1983 and first celebrated the following year. This nationwide week of events serves to champion the power of the travel and tourism industry. Travel and tourism is one of America's largest industries, generating $2.1 trillion in economic output, with $947.1 billion spent directly by domestic and international travelers that spur an additional $1.2 trillion in other industries.
According to the US Travel Association, tourism directly generated $147.9 billion in tax revenue for local, state and federal governments in 2015. Travel and tourism is America's largest services export industry and is one of America's largest employers. Travel is among the top 10 industries and supported 15.1 million jobs, including 8.1 million directly in the travel industry and 7 million in other industries. One out of every 9 jobs in the U.S. depends on travel and tourism. Each U.S. household would pay $1,192 more in taxes without the tax revenue generated by the travel and tourism industry.
The Wyoming County Chamber & Tourism is the leading membership organization for local and regional growth, advocacy, and connection for Wyoming County's business community. The Chamber & Tourism's mission is to serve the members and community; promote and grow the area's economic and tourism assets; and work collaboratively to create an environment that leads to the success and economic prosperity of Wyoming County. For more information or to become a member please call 585-786-0307 or visit the website at www.wycochamber.org or www.gowyomingcountyny.com.
# # #