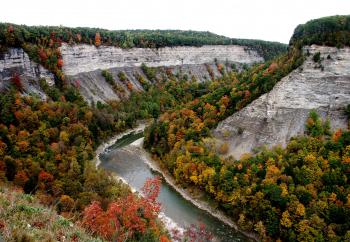 The Wyoming County brand represents all the best of what our unique region has to offer. From the beautiful places and pragmatic people to the rugged adventures and simple pleasures, we invite visitors to "Go Wyoming."
Wyoming County is your 4-season destination for family fun and outdoor adventures. Take in the tranquility of the woods in winter, whether it be on skis, snowshoes, snowmobiles or horseback. Tap into spring while enjoying the sweetness of maple sugaring, the exhilaration of white water rafting, or one of our many unique agricultural tours. Camping, hiking, fishing, boating and sightseeing highlight our summer offerings. Did you know that nearly 800,000 tourists from around the nation and the world visit Letchworth State Park, the "Grand Canyon of the East", each year? Fall affords the perfect time to cruise a country road or hike our many trails and enjoy the season's changing palette.
No matter what you love to do, be sure to "Go Wyoming" for all your travel and vacation fun.