Written by Michael Buda
Have you heard of Wyoming County's own artistic pioneer Lemuel Maynard Wiles? His paintings are available for all to see at the Perry Public Library. Lemuel Maynard Wiles is associated with the famous group of artists known as the Hudson River School.
Lemuel Maynard Wiles was born on October 21, 1826 within walking distance of Silver Lake in the town of Perry, New York. He was interested in art from an early age. When he was eighteen, Lemuel was sent by his parents to the State Normal School in Albany New York to become a teacher. He graduated in 1847 and by 1849 was continuing his studies in Albany under William Hart and Jasper Francis Cropsey, two important artists of what would become known as Hudson River School.
The Hudson River School had its beginnings when 24-year-old English born Thomas Cole took a steamship up the Hudson River in 1825. He stopped at Catskill Landing, hiked up into the mountains and painted the first known landscapes of the area. Later that year, Thomas Cole's paintings were reviewed favorably by the New York Evening Post and Hudson River School art has continued to gain popularity until this day. Hudson River School is considered to be the first American art movement.
Although a reporter coined the phrase, Hudson River School, it is not a school at all, but a movement embodied by a group of American landscape painters in the mid nineteenth century. In general, Hudson River School artists believed that nature in the form of the American landscape was a direct manifestation of God, although each artist varied in the depth of his religious convictions.
Growing up at a time when the Hudson River School was gaining popularity, Lemuel decided to follow in their footsteps. In 1864 he moved his family To New York City after one of his paintings sold at the National Academy of Design in New York. From then on Lemuel Maynard Wiles would rely on art as the main source of his family's income. He would divide his time between Peconic Bay, Long Island and Perry, New York. It was during these times in Perry, New York that Lemuel Maynard Wiles would get to paint inside what is now known as Letchworth State Park.
On a surviving ledger of Lemuel's artworks, paintings of Smokey Hollow, St. Helena, and Wolf Creek are mentioned. These areas are now all inside Letchworth State Park borders. A year round entrance/exit of Letchworth is located in the town of Perry, New York. Perry's Main Street has recently been placed on the National Historic Register. Along Main Street, one can still see many buildings that were here in Lemuel's lifetime (1826-1905).
The Perry Public Library on Main Street contains an art gallery donated in 1934 by Dr. Charles H. Stowell, a relative of Lemuel Maynard Wiles, and houses 44 paintings of Lemuel's. Some are paintings of the local Perry/Silver Lake area, while others were painted on a trip he took out west in 1873, and another trip he took to Europe in 1883. The free gallery is well worth visiting by lovers of art, especially the lovers of Hudson River School.
About the author:
Michael Buda is a retired U.S. Postal worker. He spends his free time with his wife and their two dogs enjoying Letchworth State Park. He may be contacted at walkhasty@gmail.com.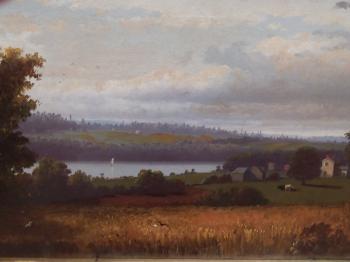 Scene of Silver Lake at the Perry Public Library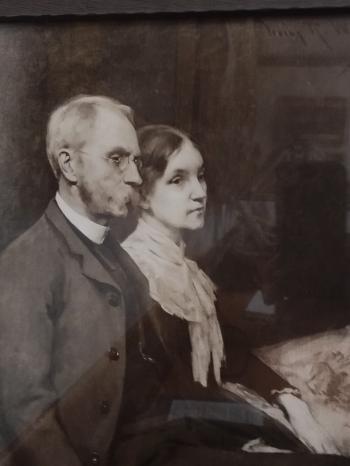 Lemuel and his wife Rachel
Sign-in to leave a comment.