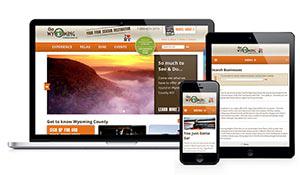 As you initially clicked on www.gowyomingcountyny.com and watched the site launch, you may have noticed something quite different than you were used to – we have launched a brand new Go Wyoming website! After many weeks of hard work and dedication, we are pleased to present to you this new resource for everything Wyoming County tourism.
Viewing this on your smart phone or tablet? You'll notice our responsive design shifts the website to allow for advanced viewing on any size screen. We've also included a new interactive map feature, links to our members' social media sites (so you can easily connect with them), photo galleries, an events calendar, news articles, and this blog! Now, no matter where you are, you can connect with Wyoming County.
Look for continued blog posts, new events, and more as we continually update and enhance this website to better serve you, the tourist. And remember, when you are looking for a place to explore, Go Wyoming!