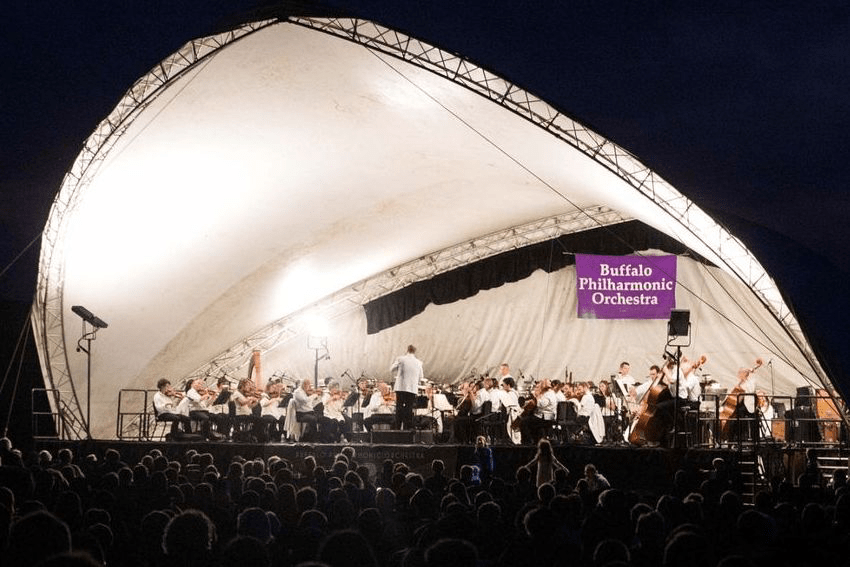 The BPO will perform classical & pop favorites at 8pm culminating with fireworks over the gorge at 9:30pm.
The Saturday, July 14th events will be held at the Archery Field Overlook in the park, just inside the Castile entrance. All activities are outdoors and the public is encouraged to bring their chairs and blankets.
Schedule for the day:
2:00pm - Steve West, Local Musician --An afternoon of Acoustic Guitar
4:30pm - Shake on the Lake, the Perry, NY professional theater company performing – "Experts Guide to Shakespeare - All 37 plays in 37 minutes or less"
5:30pm - "Injest" Comedy and Juggling
6:30pm - Shake on the Lake – repeat of the 4:30 show
8:00pm - BPO Concert featuring an Americana Program lead by celebrated conductor JoAnn Falletta
9:30pm - Grand Fireworks over the Gorge
Parking for the day's activities will be available at Trailside Lodge, Lower Falls, Octogan and overflow at Group camp area. Shuttle buses will be operating between these locations beginning at 3:15pm until 1am.
Admission to the show is included with the $10.00 per vehicle park entrance fee. Letchworth is a 'carry-in / carry-out' park.
For further information call 585-493-3600 or write to Letchworth State Park, 1 Letchworth State Park, Castile, and NY 14427. For more information about New York State Parks, please visit our website at www.parks.ny.gov