The Wyoming County Chamber and Tourism is pleased to announce the 2019 Agri-Palooza will be held at Sivue Farms, 2520 Pee Dee Road, North Java, NY. This is the 9th year of the award-winning daylong Sunday event, which highlights agriculture in Wyoming County and welcomes the public to spend the day on a working farm. The free event takes place on Sunday, June 9, 2019 from Noon until 4:00 PM.
Sivue Farms is owned and operated by Mary & Joseph Siler, Sr., and Erica & Joe Siler, Jr. The main feature this year will be their beef operation, one of the largest in the area. They have 245 Angus cows on their farm and sell the majority of their beef locally "farm to freezer." They crop farm just over 1,000 acres of land on which they harvest corn, soybeans, wheat, oats and hay. In addition to their cow herd and crop land, they maintain and tap a 10,000 tree maple woods. For the first-time this year, Agri-Palooza will include a tour of the on-site maple syrup facility. Erica & Joe Jr have been active advocates and supporters of agriculture events in the community in recent years.
"Our family believes that educational opportunities for consumers are key to progressing agriculture in the future," said Erica Siler. "We welcome the chance to give the community tours and talk with folks about what happens on our farm."
Agri-Palooza is a free educational event that invites the public onto a real working farm to learn more about their agricultural neighbors. Visitors will get a chance to view educational displays; take tours of the farm; and enjoy children's games and activities. Agri-businesses and related organizations will also be on-hand to show their work and the importance of agriculture to our local economy. Local vendors will be available at the on-site Farmers' Market with hand made goods and local products for purchase. For more information and updates follow Agri-Palooza on Facebook.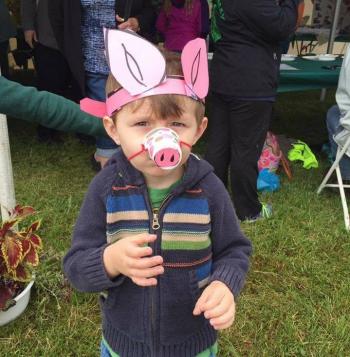 Family fun!
Sign-in to leave a comment.