Approximately 400 miles of snowmobile trails opened in Wyoming County, December 18, 2019!
Explore beautiful rolling hills, wooded forests, open fields and even ride through Letchworth State Park - as you experience an amazing & unique adventure in our County unlike any other.
Trail accessibility depend on snowfall, so stay up to date on what trails are open & closed by following the County's snowmobile clubs:
We have plenty of places where you can park your vehicle & ride your sled. Our Park & Ride Locations include:
While you're exploring our beautiful countryside, make sure to try the delicious dishes prepared by the talented staff at our local restaurants. These are located on or near snowmobile trails:
Arcade:
Attica:
Bliss:
Cowlesville:
Java:
Perry:
Portageville:
Silver Springs:
Strykersville:
Varysburg:
For a free snowmobile map or to plan your next great adventure in & around Letchworth State Park, call the Wyoming County Chamber & Tourism office at 585-786-0307!
Trail conditions of course depend on snowfall, so trail openings/closings are weather dependent, so get immediate updates by following the County's snowmobile clubs: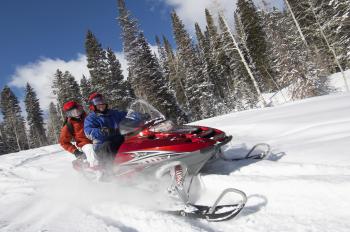 Winter adventures in WyCo!