The Wyoming County Chamber & Tourism office is pleased to announce the release of the official 2020 Wyoming County Adventure Guide. This year's guide features a cover photo by photographer Keith Walters, depicting hot air balloons flying over the Middle Falls with the Genesee Arch Bridge in the background. The cover shot is aimed at attracting visitors to the "Grand Canyon of the East" and the many adventures that Wyoming County has to offer. Request a free copy here!
The 2020 visitor's adventure guide offers readers an engaging visual experience, while providing valuable travel and hospitality information to tourists and residents. The guide is also linked to the Wyoming County Tourism website GoWyomingCountyNY.com featuring an interactive and fully mobile platform, an expanded Letchworth State Park information section, travel itineraries and trails, events calendar, maps and business listings.
"We are excited about the 2020 adventure guide," said Director of Tourism & Marketing Eric Szucs. "This comprehensive tourism marketing piece is engaging, informative, and depicts everything that makes Wyoming County a premier tourism destination for visitors worldwide. The guide highlights our many diverse tourism businesses, attractions and events. It tells Wyoming County's unique story and invites visitors to explore our beautiful natural landscape while experiencing an unforgettable family-friendly adventure."
"On behalf of the membership and Board of Directors, I would like to extend a special thanks to Eric Szucs for his hard work to deliver a great looking product for the 2020 tourism season," said Chamber CEO Scott Gardner. "I would also like to thank all the businesses and advertisers in the guide, Keith Walters for sharing the beautiful cover photo, and to community members who continue to share great photos and experiences with our organization."
The Chamber & Tourism office printed 85,000 copies for distribution this year, which will be handed out at nationwide trade and travel shows, and sent to information centers and rest stops across New York, the Northeastern United States and Southeastern Canada. Visitor guides will also be available in Letchworth State Park, at local attractions, government offices, restaurants and retail locations throughout Wyoming County.
Guides may be picked up at the Chamber office located at the Wyoming County Ag and Business Center, 36 Center Street in Warsaw. Area residents are encouraged to call, stop by the Chamber office, or arrange to have a visitor guide mailed free to friends or family who may be interested in Wyoming County. Area businesses who would like to have a supply of visitor guides at their location are also encouraged to contact the Chamber at (585) 786-0307 or info@gowyomingcountyny.com. Guides can also be requested via the Tourism website.
The Wyoming County Chamber & Tourism is the leading membership organization for local and regional growth, advocacy, and connection for Wyoming County's business community. The Chamber & Tourism's mission is to serve the members and community; promote and grow the County's economic and tourism assets as the official Tourism Promotion Agency; and work collaboratively to create an environment that leads to the success and economic prosperity of Wyoming County. For more information or to become a member please call 585-786-0307 or visit the website at www.wycochamber.org.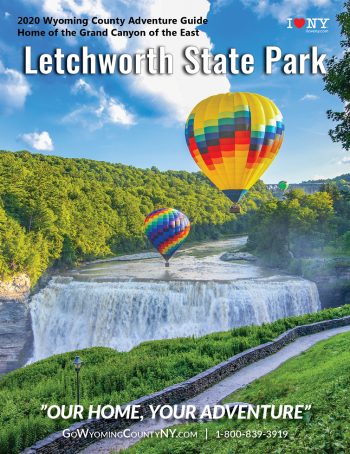 2020 Adventure Guide Cover