On March 16, Maple Weekends (March 21-22 & 28-29) were canceled by the NYS Maple Association. Individual locations may still be welcoming individuals or small groups to their sugarhouse, please contact them directly for more information on how you can get syrup, candies, sugar, and more amazing local made goodies. Please support our amazing local producers:
A&A MAPLE
1084 Creek Road, Attica, NY 14011
(585) 813-6623
2.5 miles South on Rt. 98 from the village of Attica. They will be boiling sap & their doors will be open for folks interested in purchasing maple products - so stop in and get your maple goodies both weekends!
ARCADE CENTER FARM PANCAKE HOUSE
7298 Route 98, Arcade, NY 14009
Open 8am – 2pm
(585) 492-3821
We are 1 mile North of the village of Arcade on Route 98 North.
BRAY FARMS
1597 Bray Road, Arcade, NY 14009
(571) 230-4812
State Route 98 South from Arcade to Bray Rd., we are 1 mile on Bray, over the hill and on the left.

GEORGE'S MAPLE PRODUCTS
1766 Route 77, Strykersville, NY 14145
(585) 591-8132
We are on the West side of Route 77, 1 ½ miles North of Route 20A or 3 miles South of Route 354.
KIBLER MAPLE PRODUCTS
1802 Perry Road, North Java, NY 14113
(585) 535-7854
West of Route 98, East of Route 77, South of Route 20A. Next door to Reisdorf Feed Mill and the railroad tracks.
KIRSCH'S MAPLE
317S Route 77, Varysburg, NY 14167
(58S) 535-7006
Easy to get to from any direction. located on Route 77 just 3 miles South of Route 20A. From East
Aurora take Route 20A East then Route 77 South. From Arcade take Route 98 North to Route 77 North. They will be open for you to pick up maple products - even offering curbside service. As a special thanks for coming, orders of $100 or more will receive a Kirsch Maple Farm stainless steel travel mug (while supplies last). We will have a drive up / curb side delivery to your car. Our hours of operation are March 21, 22, 28, and 29 from 10am to 4pm each day. Any questions, please call Jim @ 585-943-3133
HIDDEN VALLEY ANIMAL ADVENTURE
2887 Royce Road, Varysburg, NY 14167
Open 9am–11:30am Saturday / 9am-2pm Sunday
(585) 535-4100
Call as they have Boxler Maple Products available.

MAPLE MOON FARMS, LLC
1058 Attica Gulf Road, Attica, NY 14011
(585) 409-3975
From downtown Attica, take Main St. East past the high school (becomes Route 238). Gulf
Road is the first left past the railroad tracks. We are 1.5 miles up Gulf Road on the right. From Route
20A, take Route 238 North for about 8 miles. Turn right on Gulf Road.
MB MAPLE
2065 Clinton Street - Route 354 Attica, NY 14011
(585) 813-7193
Take NY Toll Rd. 90 to exit 48 (Batavia), go South on Rt. 98. Take Clinton St. (Rt. 354) in Attica, 6 miles down on the right.
MERLE MAPLE FARM
1884 Route 98, Attica, NY 14011
(585) 535-7136
We are on Route 98 (AKA: Creek Road) 6 miles south of Attica, or 2 miles north of Varysburg. Their festival is canceled but their store will be open both weekends from 10am - 4pm - so come purchase their fantastic maple products!
MEYER HARVEST PATCH
611 Route 20A, Strykersville, NY 14145
(585) 652-4721
Located 8 miles east of Route 400, East Aurora Exit - 2.5 miles west of Route 77. They will be open and boiling sap, so stop in, say hi, and purchase some fantastic maple products!
MOHLER MAPLE PRODUCTS
1627 Route 19, Wyoming, NY 14591
(585) 495-6941
On Route 19, just 3 miles North of Warsaw or 1 ½ miles South of the Village of Wyoming.

NARROW PATH FARM & MARKET
5886 Route 19A, Castile, NY 14427
(585) 493-2398
OVER THE HILL MAPLE
2089 Maxon Road, Varysburg, NY 14167
(585) 535-7971
We are located on Maxon Road, ½ mile North of Route 20A on the right hand side.
SAGE FAMILY MAPLE, LLC
4449 Sage Road, Warsaw, NY 14569
(586) 786-5684
From Warsaw, go North on Blackhouse Road, left on Dale Road, go ¼ miles and turn left on Sage Road. The sugarhouse is 1 mile on the right. From Attica, head east on East Main by the Attica High School. Turn right on Vernal Road, bear right on Comet Road. Take a Left on Sage Road and the sugarhouse is the first place on left. They will be open both Maple Weekends from 10am-4pm if people want to stop in to buy an assortment of yummy maple products!
SILER'S SUGAR SHANTY
2401 Pee Dee Road, North Java, NY 14113
(716) 474-3986
Pee Dee Road goes East from the intersection of Routes 98 and 78 just South of North Java. From Buffalo, take Route 20A to Route 78, turn right, go 15 miles to Pee Dee Road. We are 1 mile on the left (North side) of Pee Dee Road.
SWEET TIME MAPLE
5680 Webster Road, Wyoming, NY 14591
(585) 495-6803
Sweet Time's store will remain open from 10am to 4pm both weekends to purchase delicious maple goods!
WOLCOTT MAPLE SYRUP PRODUCTS & EQUIPMENT
1247 Dale Road, Dale, NY 14039
(585) 786-3893
From Attica go East on Main Street to East Main Road to Vernal Road to Dale Road. Take a left on Dale Road and the sugarhouse is on the right at North edge of town. From Warsaw, take Wyoming Street to Dale Road to the sugarhouse. From Wyoming, go South on Route 19 to Fox Road and take a right on to Dale Road.
Follow us on Facebook & Instagram for regular updates on businesses and happenings in our community. Also, click here for all our locally-sourced foods, products & more!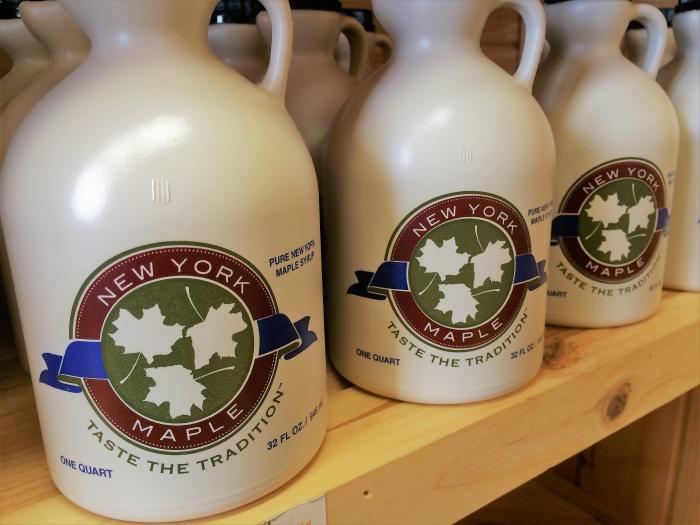 Delicious Maple Syrup