WyCo Adventure Bingo - Let the Fun Begin!
---
On May 11, 2020, the Wyoming County Chamber & Tourism and Endlessly Outdoors Company launched Wyoming County Adventure Bingo, an exciting family-friendly activity designed to encourage participants to get outdoors, explore beautiful & interesting landmarks within their communities and most of all - have fun.
Participation is free and easy. Visit Wyoming County's Tourism website to download or print the bingo board – and being your adventure. Activities on the board include, hiking in Letchworth State Park, exploring Beaver Meadow Audubon Center, paddling in Silver Lake, taking a virtual class with Endlessly Outdoors Company & much more!
Play now until September 1, 2020, and we encourage anyone playing along to use the hashtags #WyCoBingo and #WyCoApproved so others can join in on your fun and follow your progress.
This project was a collaborative partnership between Wyoming County Tourism and Endlessly Outdoors Company (EOC). EOC is a Wyoming County outdoor outfitter, owned and operated by Brianne Blaszak that provides education, products, adventurous mindset and activities that inspires communities to reconnect with nature. Brianne's passion as an educator and avid outdoor adventurer was a valuable asset in brainstorming and developing Wyoming County Adventure Bingo.
"We know that people in our communities are looking for something fun and unique to do, while also staying safe." said Eric Szucs, Director of Tourism & Marketing, "So Brianne from Endlessly Outdoors Company and I put our heads together to make Wyoming County Adventure Bingo a reality – because we want something fun anyone can do, while challenging themselves, getting out of the house, enjoying quality time with family – and doing it in a way that is responsible and entertaining."
"I started EOC based on my passion, enthusiasm and ambition to not only get people of all ages and abilities outside but to also get them reconnected with their families and the community they live in." said Brianne Blaszak, founder of Endlessly Outdoors Company. "Although we are fortunate to have Letchworth State Park in our backyards to enjoy adventuring in, by collaborating with Eric and Wyoming County Tourism on WyCo Adventure Bingo, we want to encourage people to try new activities that are outside of their comfort zone - like kayaking or geocaching - while exploring more of what Wyoming County has to offer."
To participate - click there for the bingo board and guidelines - have fun!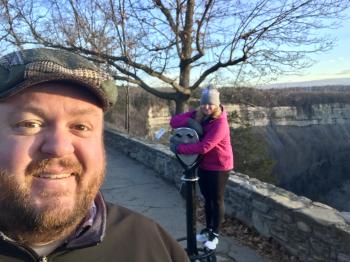 Let's adventure in WyCo!