It's ice cream season in Wyoming County!
You probably have your favorite go-to ice cream spots – or maybe you're looking for a hidden gem you didn't know about. Well we've got great ideas for you!
Charcoal Corral & Silver Lake Twin Drive-In

(Perry) – serving up Perry's hard ice cream, the Charcoal Corral also dishes out soft serve ice cream, milkshakes, sundaes, banana splits, apple cider slushies, milkshakes, smoothies, floats, freezes and more! Before (or after dessert), grab lunch or dinner at their grill or pizzeria. There's also plenty of exciting entertainment at Charcoal, including a 40-foot mining sluice with continuous running water where everyone can mine for gemstones, fossils, shark teeth and arrowheads, an 18-hole Championship mini-golf course, video arcade & game room and two drive-in movie screens showing first run Hollywood blockbusters. Located just minutes from Letchworth State Park!
Glosser's Ice Cream (Warsaw) – serving Hershey's hard ice cream, Glosser's also dishes out delicious soft serve ice cream, milkshakes, banana splits and fresh strawberry sundaes. Their signature dishes are maple shakes and sundaes made from Glosser's very own maple syrup – it doesn't get any tastier than that! You can also make this your one-stop-shop for seasonal produce, ranging from fresh strawberries, corn, pumpkins, squash, zucchini, and so much more!
Little Red Caboose

(Arcade) – serving up Perry's hard ice cream, you can also enjoy soft serve ice cream, flurries, gelati, custard blends, sundaes and banana splits! The deliciousness doesn't stop there – they also have a menu filled with goodies like Sahlen's hot dogs, fries, burgers, chicken fingers, and other grill & fryer faire. After you're done enjoying plenty of tasty treats, make time for fun and games because there's corn hole and a 9-hole mini golf course that's free to play for customers! Everything at the Little Red Caboose is train themed, including two train cabooses and play area for kids. This is the perfect companion to a day on the Arcade & Attica Railroad, which is just two minutes down the road!
Sweet Sarah's (Perry) – serving up Turkey Hill hard ice cream, sundaes, flurries, cones – but ladies and gentlemen – the sweet treats don't stop there. Sweet Sarah's also has homemade candies, pies, cookies, cupcakes and cannoli's. Every sweet tooth is satisfied at Sweet Sarah's! If you want something savory to accompany all the sweetness – enjoy daily sandwich and salad lunch specials while you check out the locally made arts & crafts. Enjoy ice cream & candy after a day in nearby Letchworth State Park!
Vintage Cow (Attica) – serving up homemade hard ice cream, soft serve ice cream, milkshakes & sundaes made from Pittsford Farms Dairy milk. This ice cream is unique, delicious and one-of-a-kind (and definitely worth tickling your taste buds with). While you enjoy a delicious dish of ice cream, browse the Vintage Cow's fresh produce, onsite greenhouse with flowers & hanging baskets, locally sourced meats, cheese, cow's milk soap, jams/jellies, crafts & more. They have something for everyone!
Wyoming Gaslight Market (Wyoming) - serving up a variety of Perry's hard ice cream flavors, you can also get soft serve in regular and waffle cones. This is a wonderful dessert option, as the Market also has delicious food, like pizzas, subs, sandwiches, calzones, fried foods, salads, snacks, drinks & more! Located right in the heart of the Historic Village of Wyoming - home of the AppleUmpkin Craft Festival, come out and enjoy a cold delicious treat!
Yummies Ice Cream (Warsaw) – serving up handcrafted hard ice cream made by the talented folks at Yummies, you'll be treated to ice cream you can't find anywhere else. Some flavors are regular staples on the menu, while others are special runs and sell out quick. At Yummies, you're always in for a sweet treat – and you can enjoy that treat in one of their homemade waffle cones! They also serve soft serve ice cream, sundaes, milkshakes, banana splits, razzles, floats, smoothies and slush puppies. Want to a relax – sit on the back patio and enjoy the nearby sounds of Oatka Creek. In a rush – they have you covered – Yummies has a drive-thru for ice cream lovers on the go OR if you're in the area, they'll deliver ice cream right to your door!
While you're out living your best ice cream life – here are plenty of awesome places you can to visit to work off those delicious treats!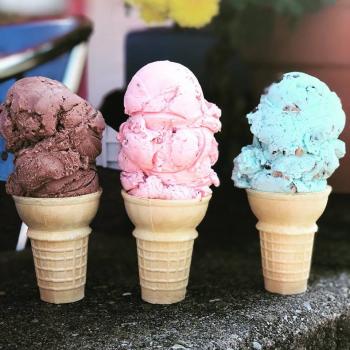 One of each please!