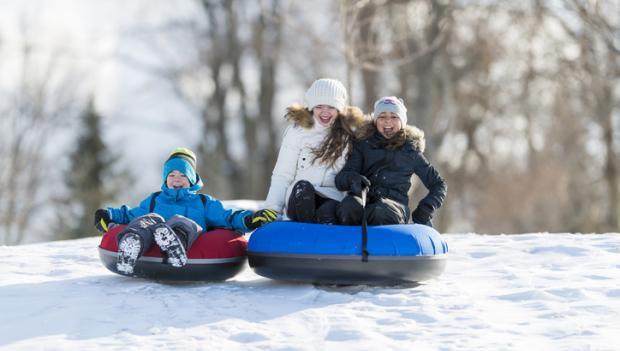 Family fun & adventure!

We want you to have plenty of fun in the snow, so here are some popular and lesser known sledding & tubing gems in Wyoming County - just a short drive from Buffalo & Rochester:
Letchworth State Park – Admission to the park is

FREE

in the winter, so bring your family, and come play in the snow at Letchworth! There are 66 miles of hiking, snowshoeing and/or cross country skiing trails in Letchworth. Trails range in length from a 1/4 mile to 24 miles (and everything in between), so it's easy to choose the length of your adventure. Also, enjoy tubing at Trailside Lodge, right near the Humphrey Nature Center. Bring your own inflatable and slide down the hill (there are no rentals, and sleds or toboggans are not permitted). Need a break? Trailside Lodge has plenty of space to relax and a fire pit with wood to warm up. Click here for directions.
Byrncliff Golf Resort & Banquets (2357 Humphrey Rd, Varysburg) – Byrncliff Golf Resort & Banquets is a resort for everyone to enjoy offering a bar, restaurant & lodging! They have a tubing, sledding & snowboarding hill - $5 per person and FREE for kids under 10 with accompanying adult. Byrncliff also offers tube rentals which are $10 for the day (on a first come, first served basis). Hours are 9AM-5PM, seven days a week. Byrncliff offers 12 miles of groomed trails for cross country skiing and snowshoeing, as well as gear rentals for novice adventurers! Trail hours are Sunday through Wednesday from 9AM - 5PM, with lighted trails available until 9PM, Thursday through Saturday. Visit www.Byrncliff.com or call (585) 535-7300 for trail & rental info! Click here for directions.
Arcade Village Park – Arcade's sledding hill is located seconds from Main Street and is the perfect sledding, tubing & snowboarding hill for all ages. The hill is lit until 10PM and has open bathrooms at the base, with pavilions nearby to enjoy lunch or relax with your family in between runs. Other amenities include playground equipment, picnic tables and a six-hole disc-golf course. After playing outside, visit Main Street for restaurants, shops & more family-friendly fun! Click here for directions.
Warsaw Village Park – Located right in the heart of the Village of Warsaw, the park boasts a speedy sledding hill, which is surrounding by a host of park amenities including playground equipment, pavilions and picnic tables. After playing outside, visit Main Street for restaurants, shops & more family-friendly fun! Click here for directions.



Sledding at Byrncliff Golf Resort & Banquets

Want to rent snowshoes? Check out:
Endlessly Outdoors Company (8 Covington St, Perry) – Endlessly Outdoors Company provides adventure and recreation activities and programs that inspires our community to reconnect with nature. EOC offers snowshoes rentals that you can take to Letchworth State Park, local parks, or anywhere you want to explore the outdoors! Rent from 1-hour, up to 8-hours! Costs run from $10 for one hour, up to $90 for a full-day adventure. Click here to rent your snowshoes now - or visit www.endlesslyoutdoorscompany.com or call (585) 969-4441 for more information on all the products & services they offer!
Beaver Meadow Audubon Center (North Java) – Beaver Meadow is a 324-acre nature preserve featuring 8 miles of trails. Enjoy ponds, wetlands with a boardwalk trail, wooded uplands, meadows, a hawk watch, and an arboretum. Their Administrative Office and main parking is located at 1610 Welch Road in North Java. If you'd like to try snowshoeing, they have snowshoe rentals for $5 per pair (2-hour rental), FREE for Buffalo Audubon Members. Small group guided tours available. Call 585-457-3228 to ensure availability and trail conditions.
---
Want to plan other outdoor adventures this Winter? We've got you covered! Also, plan a stay & play get-away at one of our many beautiful lodges, inns & hotels!
For regular updates on exciting happenings in our community, follow us on Facebook & Instagram - don't forget to tag us using #WyCoApproved!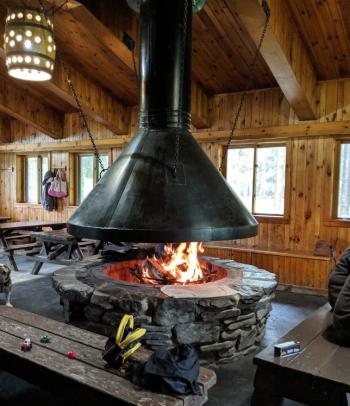 Trailside Lodge - Letchworth State Park