Family Adventures in New York State recently visited Prehistoric World in Perry, NY, just minutes away from Letchworth State Park - and here's all the wonderful things they had to say:
We love animal experiences and when we find the truly great ones, we can't stop talking about them. Prehistoric World is an incredible hidden gem in Wyoming County that just blew us away. This is a fantastic family destination that kids and reptile lovers will flip over.
My son is nuts about all things prehistoric and reptiles fit this bill, as many species of reptiles evolved from the prehistoric giants that once walked the earth. We decide that this would make a great birthday destination for him. Honestly, finding something a 14 year old would enjoy doing for his birthday during a pandemic is a feat unto itself. So, discovering this gem was a complete stroke of luck and Prehistoric World saved the day by giving us a unique and one-of-a-kind experience.
Side note: He is a huge Jurassic Park fan and the memorabilia on display had him drooling in envy.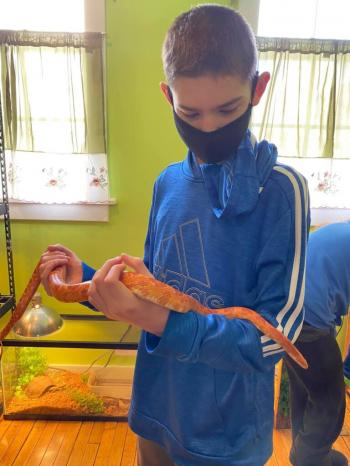 Snakes, Lizards, Turtles…
If your kids are like mine, they always make a beeline for the reptile house at whatever zoo we are visiting. Well, Reptile World puts every single reptile house we have ever visited to shame. I literally have never seen such an astonishing variety of reptiles in one place.
The zoo is split into 2 separate themed sites where guests can learn about animals that hail from different habitats. Be prepared because I'm about to gush about these gorgeous animals!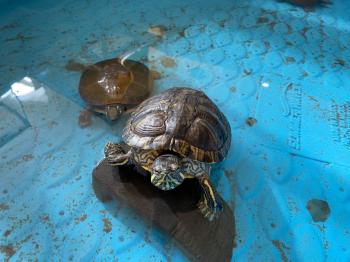 Site A – Living Jungle
These animals all come from jungle or forest settings. I think the thing that struck me the most was the colors of the reptiles in this section. I have never seen so many colorful snakes in my life. Nor did I realize how many different kinds of geckos and lizards there are. One thing that really made an impression on me was how receptive the animals are to visitors. When I have seen reptiles in the zoo, they more or less ignored me. These reptiles, however, looked straight at me, almost encouraging me to touch them. They have clearly had a great deal of human attention, love, and interaction.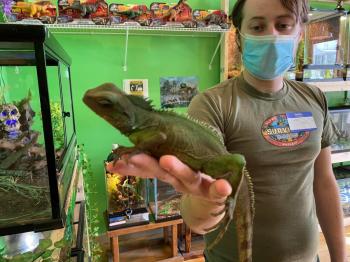 Site B – The Desert Lands and Turtle Town
This exhibit is located just next door and is dedicated to the desert animals, as well as my personal favorites, turtles, and tortoises. In addition to loads of turtles, tortoises, and of course desert-dwelling snakes and lizards, this exhibit is home to some Prehistoric World's creepier inhabitance…arachnids like tarantulas and scorpions and their cutest ones, prairie dogs and a hedgehog.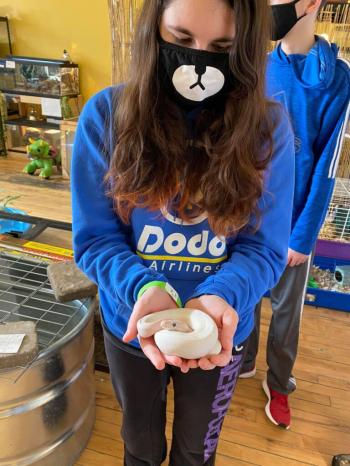 Fantastic Staff
What really sets this zoo apart from other zoos is the staff. They are what really make every visitor's experience unique and extraordinary. From the moment you step through the door, each person is treated like a special guest. The reptile expert docents walk around the zoo and will provide guests with fascinating facts about the reptiles and invite guests to touch and hold almost every animal in the zoo. This is as interactive an experience as you can ever hope to have at any zoo and it is completely amazing.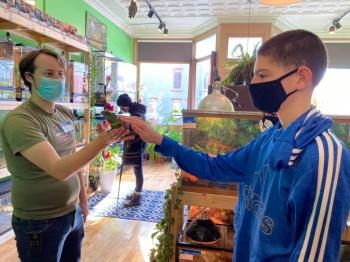 I have always heard the phrase "Do what you love and you'll never work a day in your life." but this is the first time I have actually seen it in practice. The docents here clearly love reptiles. I have never seen people who are as enthusiastic and passionate about what they do as those in Prehistoric World. Every time we would come to a different habitat with an interesting snake or lizard and I would exclaim "ohhhh! Can we hold him?" and our docent would patiently replay (even after having shown us 10 other animals already) "Of Course!" and go into a detailed explanation about how the animal came to live at Prehistoric World, reel off interesting facts about the species, and answer any questions we would have. Even though I am sure that they had told the same facts dozens of times, it was clear that they enjoyed teaching visitors about the reptiles.
I also feel like we walked away with a great deal of new knowledge and appreciation for reptiles. During our visit, we had the opportunity to meet so many snakes and to my delight quite a few baby snakes.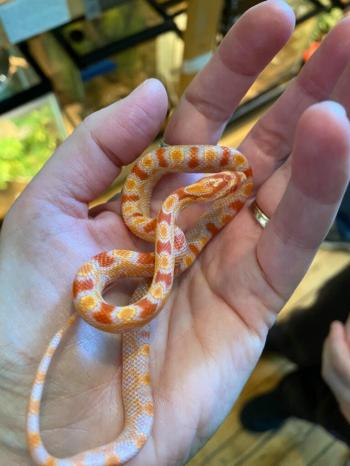 Extra Experiences
But wait!!! There's more!!! There are extra experiences that guest can enjoy.
ANIMAL FEEDING
$2.00
Hand feed a tortoise or lizard.
PHOTO WITH ONE OF OUR ANIMALS
$10.00
Have a commemorative photo taken with your favorite reptile. Each photo is taken with a special background and comes with a protective paper frame.
ZOOKEEPER FOR A DAY (4 hours)
$125 for an individual, ages 12 and up; $225 for a family
Get hands on experience and learn what it is like to be a zookeeper at Prehistoric World. Go behind the scene for 4 hours and assist with cleaning enclosures, feeding and medicating the animals.
BIRTHDAY PARTIES
$300
Enjoy a party in the private birthday room for up to two hours with a private reptile show. Birthday parties include free admission to the zoo. (maximum group size is 15 people – $10 for each additional person.)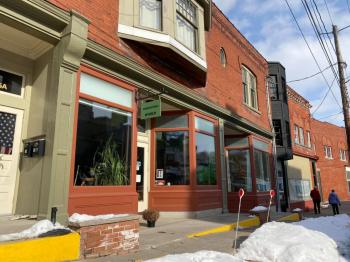 Know Before You Go
Prehistoric World keeps the temperature of the zoo very warm. I recommend leaving your coat in the car and wearing only a t-shirt. We were sweating in our hoodies. The fact that it is so warm also makes this a great winter destination. You can get a welcome break from the cold and can warm up with while meeting some heat-loving animals.
Hours and Admission
Hours
MONDAY: CLOSED
TUESDAY: 12 PM – 4 PM
WEDNESDAY: 11 AM – 5 PM
THURSDAY: CLOSED
FRIDAY: 10 AM – 5 PM
SATURDAY: 10 AM – 5 PM
SUNDAY: 10 AM – 5 PM
Admission
$8/person (kids under 2 are free)
Getting to Prehistoric World
Address: 14 LAKE ST, PERRY, NY 14530
---
Thank you to Family Adventures in New York State for sharing this article with us! Click here to view the article, and follow them on Facebook and Instagram.
As they say on their website:
Thank you for visiting Family Adventures in New York State! This website began and continues as a labor of love. When our children were little, we would search for places to go with them that were fun and unique. As friends saw our little adventures posted on social media, several suggested I create a website where I could share our road trips and adventures with lots of people. Initially, Family Adventures was a parttime endeavor that I did working around my real 9-5 job. A few years ago, I took the great plunge and turned this website into my full-time job.
My children are no longer little but they still enjoy embarking on our family adventures and we love bringing those adventure to you. I get such pleasure in sharing the incredible and unique places in our beautiful state with you, our readers. Planning a road trip, camping trip, a place to eat or just a short day trip is always exciting and I love that we can help you find places to visit, eat, hike, camp or get out on the water. We believe that life should be an adventure and that is why we named our site Family Adventures. We hope to continue adventuring for years to come and that you will be right there with us.