Editors' Choice Award: Letchworth State Park is a Peaceful Date Destination for Outdoorsy Couples


The Scoop: People from around the world visit New York's Letchworth State Park to connect with nature. The park makes it easy for couples to find a romantic spot to reconnect with its three stunning waterfalls and miles of hiking and biking trails. For a special date, visitors can take a hot air balloon ride over the waterfalls or enjoy a dinner at the historic Glen Iris Inn overlooking the impressive Genesee River. For offering couples natural experiences and peaceful dates, Letchworth State Park earns our Editors' Choice Award.

Outdoor dates have become much more popular in 2021 as experts agree that COVID-19 is more likely to spread indoors. That means first dates to a movie theater, a popular bar, or a packed concert are often out.
Couples also have plenty of other reasons to consider heading outdoors. A sense of adventure can increase adrenaline, and studies have shown that extra adrenaline can lead to increased attraction.



That's why many adventurous couples head to New York's Letchworth State Park for an exhilarating experience. After working up an appetite in nature, visitors can continue enjoying the park's surroundings from the comforts of its restaurant, the historic Glen Iris Inn.
The park offers guests plenty of activities year-round, including hiking, biking, whitewater rafting, and even hot air balloon rides. It has three picturesque waterfalls, plenty of hiking and biking trails, and an educational facility — the Humphrey Nature Center.
"People just love Letchworth. I can't tell you how many people have had their first date, gotten engaged, or have had their wedding at the park," said Eric J. Szucs, the Director of Tourism and Marketing for the Wyoming County Chamber and Tourism Promotion Agency. "It's an incredibly popular place for engagement and wedding photos on any beautiful summer or fall day."
Founded and Preserved by Conservationists
The park is named after William Pryor Letchworth, who discovered the land located about an hour east of Buffalo in the mid-1800s. He purchased part of the property in 1859 and continued to expand his holdings, which he transferred to the state when he passed away.
"He did it because he absolutely fell in love with the Genesee River and the waterfalls there," Eric said. "He wanted to preserve the natural beauty of this place and share it with his friends and family."

Letchworth State Park is a popular destination for visitors of all ages. Eric said outdoors enthusiasts love the opportunity to hike 15 miles, bike 30 miles, or hike along the Finger Lakes Trail. Seniors and those with limited mobility can also enjoy the park by taking a leisurely drive and viewing its stunning beauty from the road.
Letchworth State Park isn't just a local destination. The park attracts tourists from Canada, Europe, and China, who enjoy the area's beauty, go on horseback rides or take photos near its waterfalls. Since the views haven't changed in more than a century, a visit to the park can feel like a trip back in time.
The Glen Iris Inn is the historic home of the park's founder, and it has been transformed into an elegant dining room that overlooks the Genesee River gorge and the Middle Falls.
"It's a perfect place that's serene and beautiful to relax, have a drink, and eat lunch or dinner," Eric said.
Explore and Learn About the Area's Natural Beauty
Letchworth State Park's main attraction is the Genesee River, which cuts a gorge through the middle of the park. The gorge is 600-feet deep in some places and includes three waterfalls along its path: Upper, Middle, and Lower.
The Middle Falls, at 107 feet high, are the largest and the most popular among visitors. For those who enjoy a more secluded experience, Letchworth State Park makes it easy to get away from other people. The park includes 66 miles of trails. Some are 20 miles long, while others are just a half-mile long, so there's something for all activity levels.

The Humphrey Nature Center is the park's state-of-the-art environmental education interpretive hub that opened in 2016 through a collaborative public-private effort. Rangers offer nature walks and workshops that teach about the park's flora and fauna, depending on the time of the year and the state health regulations.
"For people who want to do their own thing, there are plenty of activities. But if you want to learn about nature, animals, and the history of the park, the nature center offers a great opportunity as well," Eric said.
Cabins and camping sites are available in the park for those who want to extend their stay. Other exhilarating date activities include kayaking, whitewater rafting with Adventure Calls, hot air balloon rides with Balloons over Letchworth, snowmobiling, and cross-country skiing.
The park's location makes it a nice side trip for those visiting Niagara Falls about an hour and a half away. Letchworth State Park is in the middle of New York's wine country, so couples can extend their dates to include nearby vineyards.
Letchworth State Park: A Romantic Location for All Ages
After an adventurous day of exploring the wilderness of Letchworth State Park, couples can enjoy a glass of wine on the veranda of the Glen Iris Inn overlooking the gorge. Eric said the romantic setting makes for a great date activity, especially for those who enjoy history.
The Inn is a nice addition to the stone arch bridges, rock walls, and stone slab picnic benches that add to the park's ambiance. The Civilian Conservation Corps built many historic structures in the park back in the 1930s.
"There's a lot of history to explore," Eric said. "There are a lot of little things that just make visiting Letchworth unique from a historical standpoint."
In 2021, the Letchworth State Park team looks to expand its virtual programming opportunities through the Humphrey Nature Center. That way, people can learn more about the park's flora, fauna, history, and geology before or after they visit. The ultimate goal is to offer its virtual programming for schools, as well.
The park soon plans to unveil a new trail called the Autism Nature Trail. The one-mile loop, the first of its kind in the country, has eight interactive stations geared toward visitors with autism. It's another example of what makes Letchworth State Park so special for couples and families alike.
"We love to share those stories and talk about Letchworth because everyone has that special memory when they were camping, whitewater rafting, or celebrating an anniversary at the Glen Iris Inn," Eric said. "There's a lot of love for this place."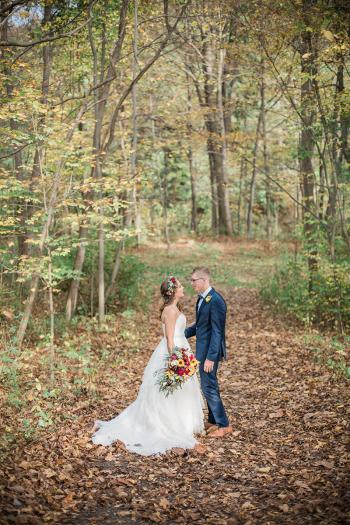 (Photo credit: Lass & Beau)