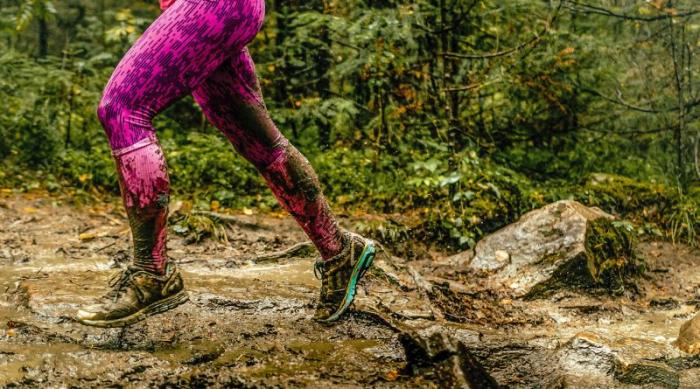 Mud season? How to hit the trail & enjoy it!
By Brianne, Owner & Operator of Endlessly Outdoors Company, Perry, NY
It is the time of year when we are all excited to see the snow melt, the sun come out and the temperatures rise. While most call this spring, in the outdoor adventure and recreation world – this is the start of mud season!
What exactly is mud season? Well, it really describes the conditions that exist in our local parks and trails. Mud season happens when the snow melts – regardless of how little we have had – along with the occasional rainfall. This is where people might get confused though, because mud season occurs no matter how much snow or rain we have had lately. Why is that? It's because the ground is thawing, and that the trails soft and muddy.
After a long winter, we know you're excited to get outdoors, and we want to make sure you enjoy yourself, while doing so safely and also preserving the natural beauty of our parks and trails.
So what do you need to know about this time of year – it only a little mud, right? It's a great time of year get out and hike any trail or local park because the snow is gone and the temperatures are rising, mud season can create some challenging hiking conditions for those on the trail. These conditions could include paths that now have a water crossing, streams that have a higher volume of water and/or a faster current and of course trails that have fallen branches and trees. Also on windier days, branches and trees can fall due to the softer ground and weaking due to storms over the winter. Lastly, trails that were there in the fall could be gone now or even eroding if they are near ledges/cliffs. While nature does its own work on changing trail conditions, this season is a great time for you to take care of the trails to ensure they are in great shape come drier days!
What does that mean? Trails can be damaged when hikers walk around the mud. Yes, that is correct! It is highly recommended you walk through the mud and puddles to stay on the trail. By going around this causes the trails to widen while stepping on sensitive vegetation and possibly even eroding soil. This could result in the trail giving out and you taking an unwanted spill. Also, by going around/off the trail - you are creating new trails that are not marked – called herd paths – which could result in future hikers becoming disoriented or lost. So don't be afraid to get down and dirty - enjoy hiking through the mud!
So should you hike during mud season? Absolutely - it is great to get out and hike any time of the year! Before you go, keep in mind what we've discussed and take note of a few simple recommendations:
Check the Weather: This includes taking into account the previous 48 hours of weather and the future 48 hour so weather as well. If it has been warmer than normal and rain has fallen, the mud will be more of an issue. It is best to have at least 24 hours for it to "dry out." But if it looks like rain will continue to fall and temperatures are changing (either colder or warmer) – we highly recommend waiting or finding trails that are less likely to be affected by the weather pattern.
Seek Alternatives: While we all have our favorite trails – especially the ones in Letchworth State Park – many of those trails see a ton of traffic, especially during mud season. These popular trails receive the most damage due to the season and overuse. Therefore, we've included a few alternatives that provide the same enjoyment as your favorite trails but won't have the mud or traffic. Some of our favorite go-to trails include:
Beaver Meadow Audubon -

Beaver Meadow is a 324-acre nature preserve in North Java, NY. The preserve features its namesake beaver meadow with its associated ponds, glacial kettle ponds, wetlands with a boardwalk trail, wooded uplands, meadows, a hawk watch, an arboretum, and eight miles of marked and groomed trails. Beaver Meadow's Administrative Office and main parking is located at 1610 Welch Road, North Java, NY.
Carlton Hill Multiple Use Area

-

Located in the Town of Middlebury, Carlton Hill is a 2,484-acre area comprised of abandoned farmland interspersed with scattered small woodlots that provide a variety of habitat types for many kinds of wildlife. Some trails in Carlton Hill are well marked, while others are more rudimentary. A hidden gem for birders & bikers!
Genesee Valley Greenway State Park -

The Genesee Valley Greenway is a 90-mile long trail that runs from Rochester down to Cuba, NY and runs along the Genesee River south of Portageville, NY in Wyoming County. The trail includes public, multi-use trail and natural and historic resources. The majority of the trail is an old railway bed that is a straight, level surface consisting of cinders, gravel and mowed grass. The Greenway passes through woodlands, wetlands, river and stream valleys, rolling farmlands, and steep gorges.
There are excellent hiking trails all over Western New York, so check out Fresh Air Adventures, NY for a run down of places to hike, explore, eat & enjoy between Niagara Falls & the Finger Lakes!
Be Prepared: You have done the research, followed the recommendation above and have found a trail/park to explore now it's time to ensure you are ready to hit that muddy trail! In order to do this, we have created a checklist of items to have in your day pack: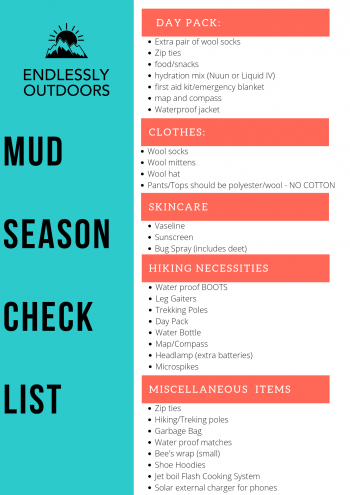 Leave No Trace: Many of you already follow this by carrying in and carrying out your belongings and garbage. But did you know this also means:
Staying on trails
Avoid moving/taking plants and rocks. This includes creating rock piles – Cairns. It creates opportunities for additional erosion, disturbs animal habitats, and can potentially create confusion for hikers.
Not including a geo tag (location) when posting on social media – or keeping it general to the park, but not your exact location. Allow people to explore and discover the location themselves. By not including the tag, you are also limiting access to the location and/or allowing you to keep the location as your new favorite spot!
Still have questions or in need of gear, maps or more? Stop into at Endlessly Outdoors Company, minutes from Letchworth State Park and Silver Lake, at 8 Covington Street location in Perry. You can get our hours and more from our website: Endlesslyoutdoorscompany.com.
---
Follow us on Facebook & Instagram for regular updates on exciting happenings in our community - and don't forget to tag us using #WyCoApproved.
For more information on our regional website, click here to learn about Fresh Air Adventures, NY!