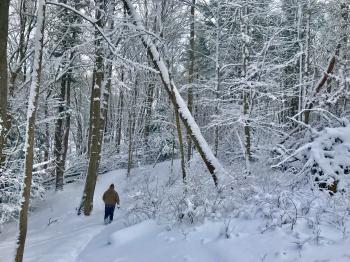 Hike & rent snow shoes at Beaver Meadow Audubon - North Java
This season, don't let cabin fever set in - there are many fun and exciting experiences awaiting you close to home! Some have a small fee, while most are totally free fun for you and your family. This includes parks, area businesses and more to help you enjoy winter:
Escape into nature, explore nature & participate in winter activities in Western NY:
Letchworth State Park – There are 66 miles of hiking, snowshoeing and/or cross country skiing trails in Letchworth. Trails range in length from a 1/4 mile to 24 miles (and everything in between), so it's easy to choose the length of your adventure. The park permits snowmobiling, and also has a tubing hill next to the Humphrey Nature Center. Bring your own tube (no sleds or toboggans permitted).
Beaver Meadow Audubon Center (North Java) – Beaver Meadow is a 324-acre nature preserve in North Java, featuring 8 miles of trails. Enjoy ponds, wetlands with a boardwalk trail, wooded uplands, meadows, a hawk watch, and an arboretum. Beaver Meadow's Administrative Office and main parking is located at 1610 Welch Road, North Java, NY. During the winter they offer snowshoe rentals. It is a $5 rental fee per pair (2-hour rental), FREE for Buffalo Audubon Members, small group guided tours available (call 585-457-3228 to ensure availability and trail conditions).
Carlton Hill Multiple Use Area (Near Warsaw/Wyoming) – Located in the Town of Middlebury, Carlton Hill Multiple Use Area (MUA) is a 2,484-acre area comprised of abandoned farmland interspersed with scattered small woodlots that provide a variety of habitats for many kinds of wildlife. Some trails in Carlton Hill are well marked, while others are more rudimentary.
Genesee Valley Greenway Trail – The Genesee Valley Greenway is a 90-mile long trail that runs from Rochester down to Cuba, NY and runs along the Genesee River south of Portageville, NY in Wyoming County. The Greenway includes public, multi-use trail and natural and historic resources. The majority of the trail is an old railway bed that is a straight, level surface consisting of cinders, gravel and mowed grass. The Greenway passes through woodlands, wetlands, river and stream valleys, rolling farmlands, and steep gorges.
Ghost Pond Preserve (North Java) – Ghost Pond is a 60-acre nature preserve owned by the Buffalo Audubon Society. The trail is approximately 1 mile long and is low-to-moderate in difficulty. Ghost Pond Preserve is located on Welch Road in North Java, approximately 1 mile east of Beaver Meadow's Administration Building (which is located at 1610 Welch Road, North Java, NY).
Rose Acres Preserve (Java Center) – Rose Acres is located at the intersection of Torry Hill and Java Lake Roads in Java Center, NY (near Java Lake). It is a 53-acre preserve where wildlife abounds in a variety of habitats including mixed upland woods, a small stream, and a 5-acre beaver pond. Enjoy just over a mile of walking in the peaceful quiet of nature, and in the Spring, be on the lookout for wildflower species such as Trillium, Hepatica and Clintonia.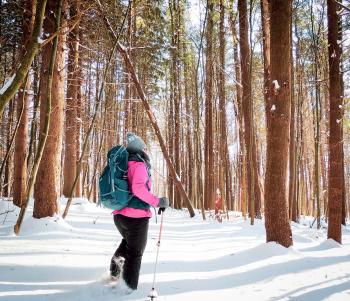 Rent snow shoes from Endlessly Outdoors Company - Perry

Area businesses in Wyoming County offering unique and enjoyable family fun & experiences:
Byrncliff Golf Resort & Banquets (2357 Humphrey Rd, Varysburg) – Byrncliff Golf Resort & Banquets is a resort for everyone to enjoy offering a bar & restaurant, lodging, and 12 miles of groomed trails for cross country skiing and snowshoeing - as well as gear rentals for novice adventurers! Trail hours are Sunday through Wednesday from 9AM - 5PM, with lighted trails available until 9PM, Thursday through Saturday. They also have a tubing hill - with tube rentals available! Byrncliff is a year-round resort, comfortably tucked in the hills of Wyoming County. Spend this winter enjoying their groomed trails, as well as access to snowmobiling trails! Visit www.Byrncliff.com or call (585) 535-7300 for trail & rental info - also ask about their all inclusive ski & stay packages!
Endlessly Outdoors Company (8 Covington St, Perry) – Endlessly Outdoors Company provides adventure and recreation activities and programs that inspires our community to reconnect with nature throughout all four seasons. EOC offers outdoor products, services, and education that highlight the parks, trails, lakes and communities that are unique to our area. They work with people of all ages and abilities, and have recreational equipment like snowshoes rentals. Visit www.endlesslyoutdoorscompany.com or call (585) 969-4441.
Prehistoric World (14 Lake St, Perry) – Prehistoric World is New York's only interactive reptile zoo where visitors can pet or hold amazing animals from around the world and participate in dinosaur-themed activities. Experience everything from live reptiles, amphibians, invertebrates and fish, to dinosaur and plant fossils to Jurassic Park memorabilia. Call (585) 356-3312 for more information.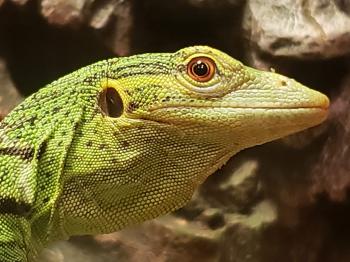 Explore Prehistoric World in Perry

Bring the kids and enjoy playgrounds, pavilions, picnic amenities & more at these scenic village parks in Wyoming County:
Arcade Village Park – sledding hill (lighted for evening sledding until 10PM), 6-hole disc golf course, outdoor recreational space, jungle gyms, pavilions, grills, picnic tables, splash pad, basketball courts, street hockey rink
Attica Memorial Park – outdoor recreational space, pavilions, picnic tables, outdoor recreational equipment, pool, ice skating rink.
Castile Village Park – outdoor recreational space, jungle gyms, pavilions, picnic tables
Java Veterans Park – outdoor recreational space, pavilions, picnic tables, walking trails
Perry Village Park – outdoor recreational space, jungle gym, splash pad, pavilions, tennis & basketball courts, picnic tables, Perry Fire Department Museum
Pine Tree Park (Cowlesville) – outdoor recreational space, pavilions, picnic tables
Warsaw Village Park – park amenities include: sledding hill, outdoor recreational space, jungle gyms, pavilions, picnic tables, pool, access trail to Warsaw Waterfalls.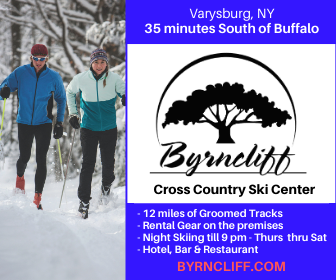 Cross country ski on groomed trail at Byrncliff in Varysburg

Want to plan other outdoor adventures this Winter and/or throughout the year? We've got you covered! Also, plan a stay & play get-away at one of our many beautiful lodges, inns & hotels!
For regular updates on exciting happenings in our community, follow us on Facebook & Instagram - don't forget to tag us using #WyCoApproved!