Love is in the air and we're here to give you the most romantic Valentine's ever. There are delicious culinary treats, cozy overnight getaways, carriage rides & more! Now get out there and have fun you adorable lovebirds.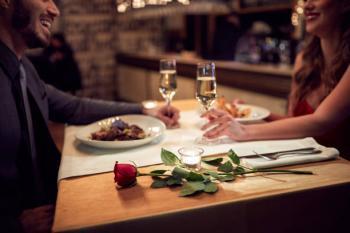 Delicious Culinary Treats -
Amber Lantern Brewing (Warsaw) - on Saturday, February 12th, the Amber Lantern will have chicken parmigiana on their special menu all day! It includes a side salad for only $14. Stop in, be romantic, have a delicious meal and enjoy a craft beverage at Wyoming County's first brewery.
Attica Hotel (Attica) - on Saturday, February 12th, romance is in the air at the Attica Hotel. Enjoy sirloin steak & shrimp and/or cornish game hens - each entree comes with roasted potatoes & garlic parm asparagus - as well as a shared appetizer, salad and choice of dessert. By reservation only no later than February 8th. Call

(585) 591-0500.
Valentine's Weekend Specials

- Take your special someone out for dinner, featuring prime rib & shrimp scampi - plus anything off the regular menu. February 12 from 3-9PM and February 13 from 2-5PM. Overnight packages available as well! Make your reservations by calling (585) 535-7300.
Valentine's Day Brunch

- Make Valentine's Day special with a chocolate brunch at Byrncliff - February 13 from 9AM - 12PM. Enjoy Belgian waffles, pancakes, eggs, bacon/sausage/ham, chicken a la king, heavenly chocolate desserts & more. Make your reservations by calling (585) 535-7300.
Grateful Grill (Silver Springs) - On Friday, February 11th, let the Grateful Grill set the mood. Dive into a dinner for two with dishes like "marry me" chicken, bacon wrapped meatloaf, salmon carbonara and surf n' turf (14 oz. strip steak with lobster tail). It includes one appetizer, entrees and two desserts like triple layered chocolate cake, double fudge brownie w/ ice cream and Bavarian apple cheesecake! Call (585) 228-1159 to make your reservations.
Laurie's Restaurant (Warsaw) - Celebrate Valentine's Day at Laurie's where they'll have romantic fare like surf & turf, strip steak or ribeye w/ grilled shrimp, prime rib, salmon, grilled chicken w/ asparagus over rice w/ hollandaise sauce & much more! Save room for desserts like dreamy cream puffs, lava cake, jumbo cupcakes and chocolate NY cheesecake. Call (585) 786-2108 for more information.
Positiv Cafe (Attica) - Surprise your crush with a special beverage from Positiv Cafe. During February, they have lovely specials - including Cupid's Latte, Love Bomb Latte, Strawberry or Raspberry Cheesecake Frappuccino, Love Bug Cold Brew & Teddy Bear Latte. If that doesn't get your heart pitter-pattering, nothing will!


Vertical Cafe (Warsaw) - A hot drink will warm the heart of that special someone. Visit Vertical Cafe during February as their drink specials are love-a-latte, melt my heart mocha, red hot latte, candy hearts frozen frappe, strawberries & Cream latte and caramel kiss frappe. Now that's how you find true love!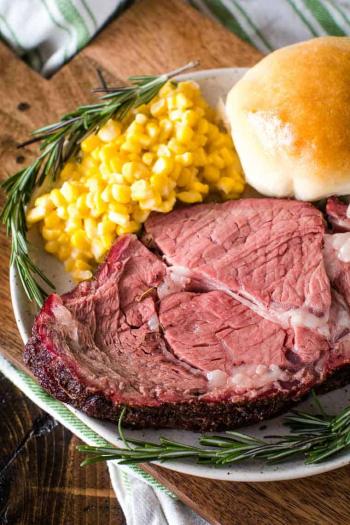 Sweet Treats & More -
Artisan Villa (Warsaw) - get delicious chocolates, floral arrangements & heartfelt gifts all at Artisan Villa! Including delicious peanut butter hearts (YUM!). Call (585) 786-8766 to place your order now.
CakeEasters Bakery (Arcade) - make this your ONE STOP SHOP for Valentine's! CakeEaters will have sweet treats like heart shaped cookies, tiramisu, mini-cheesecakes, chocolate covered strawberry tortes, hand pies & more to tantalize your taste buds. They will also have flowers, balloons, wine, gift bags and greeting cards so you can get everything you need in on place. Call (716) 258-2579 to place your order now until February 15th.
Positiv Cafe & Bakery (Attica) - this cozy bakery in Attica, offers an array of handcrafted baked good and artisanal drinks - from coffee (hot & cold brew), tea, smoothies, hot chocolate & more. All perfect gifts!


Cheers To Love (and Craft Beverages) -
Bring home a bottle of wine from Main Street Winery in Arcade. Pop the cork, pour a glass and share a romantic evening with the one you love.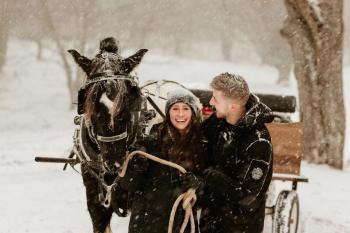 Romantic Adventures -
Full moon snowshoe hike in Letchworth State Park with Endlessly Outdoors Company - looking for a new adventure in 2022? Need an exciting Valentine's date idea? Come enjoy a snowy full moon hike with Endlessly Outdoors Company in Letchworth State Park! This two hour experience includes tips and instructions on snowshoeing (weather dependent) along easy/intermediate trails - finishing with a tasty cup of hot chocolate. Tickets are $20 per person - snowshoe rentals available! Call (585) 969-4441 for more information!
Enjoy a Sleigh Ride with Wolcott Farms (Warsaw) - a sleigh ride for two at Wolcott Farms is the perfect way to celebrate Valentine's Day. Bundle up and relax as the horses guide our beautiful sleigh across the fields of snow in Wyoming County. Great for all ages - no strenuous activity is required. The ride is $85 lasts 30 minutes, and includes a digital print. The evening rides will be torch lit. After the ride, warm up inside their sugar shack, where they will have organic maple products for sale.



Don't Forget Flowers and Gems -
Hans Moeller Jewelry (Attica) - treat the love of your live to jewelry, a nice watch or something sparkly from Hans Moeller Jewlers! They have a wonderful selection, and will help you select the PERFECT gift to express your love & devotion (at a great price).
For regular updates on exciting happenings in our community, follow us on Facebook & Instagram - don't forget to tag us using #WyCoApproved.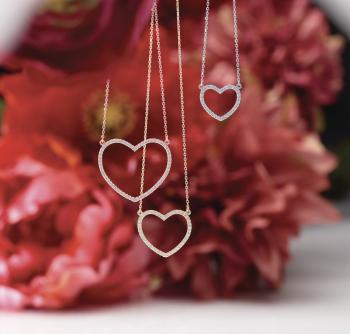 Hans Moeller Jewelry