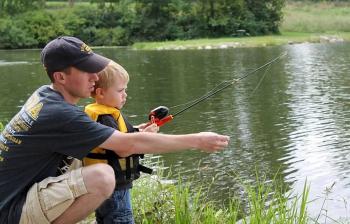 Western New York's Stream Fishing Destination
Wyoming County is home to some of the best stream fishing in all of New York State, featuring both stock and wild trout. With over 34 miles of fishing easements and 43 miles of stocked streams, Wyoming County is a Western New York fishing destination!
Our waterways are stocked with nearly 30,000 trout annually and range in size from tiny brooks to large open creeks. The speckled beauties we have here are a sportsman's dream. In addition, an array of camping accommodations are located near or along these streams make for a true outdoor experience for your friends and family.
Worm dunkers, spin fishers or fly casters will find these stocked waters prime fishing territory, as great fly hatches come off more streams from May through the summer.
In addition to our amazing streams & creeks, in Silver Lake's 750-acre expanse, you will tackle northern pike, walleye, bass, bluegill and more. Silver Lake is also a year-round attraction, acting as a prime ice-fishing destination in the winter months.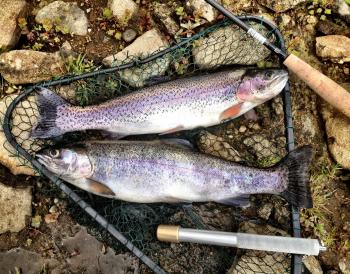 Check out some of our most popular waterways and begin planning your fishing experience today:
Fish Wyoming County Creeks
Cattaraugus Creek consists of 13.8 miles of public fishing rights easements. Each spring, more than 18 miles of Cattaraugus Creek (from East Arcade downstream to the Town Line Road Bridge) are stocked with 12,200 yearling brown trout and 1,950 two-year-old brown trout. In addition, the stream has healthy populations of wild brown and rainbow trout, with recent DEC surveys estimating their combined numbers at 630 adult trout per stream mile.
East Koy Creek begins in central Wyoming County and flows southerly, passing through the Villages of Hermitage, Gainesville and Lamont. There are 13 miles of public fishing rights easements on the creek. Each spring, East Koy Creek receives 12,600 yearling brown trout. In addition to the traditional stocking of yearlings, 1,200 two-year-old brown trout averaging 14 inches long are stocked as well. Anglers can also catch wild brown trout and occasionally wild brook trout
Wiscoy Creek begins in south-central Wyoming County and passes through the Villages of Bliss and Pike. Trout Brook and North Branch Wiscoy Creek are two high quality tributaries of Wiscoy Creek. Combined, there are 14.3 miles of public fishing rights easements on these three streams. Together, Wiscoy Creek, its North Branch and Trout Brook form one of the most productive watersheds for wild brown trout in New York State. DEC surveys estimate an impressive 1,100 adult wild brown trout per stream mile in the Wyoming County section of Wiscoy Creek. Some wild brook trout are found in Trout Brook. Wild brook trout can also be caught in Wiscoy Creek.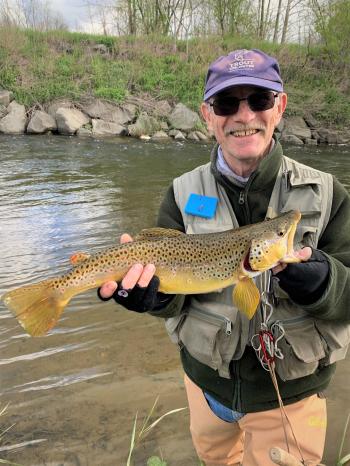 Fish Silver Lake
Located near the Villages of Perry & Warsaw, Silver Lake offers year-round fishing includes largemouth bass, walleye, northern pike, bluegill, pumpkinseed, yellow perch, black crappie, brown bullhead. Put in your motorboat at Silver Lake State Park, where a concrete ramp and dock. Ice fishing is also permitted.
Below is a map outlining the locations of all of our waterways, including the fish you can expect to catch!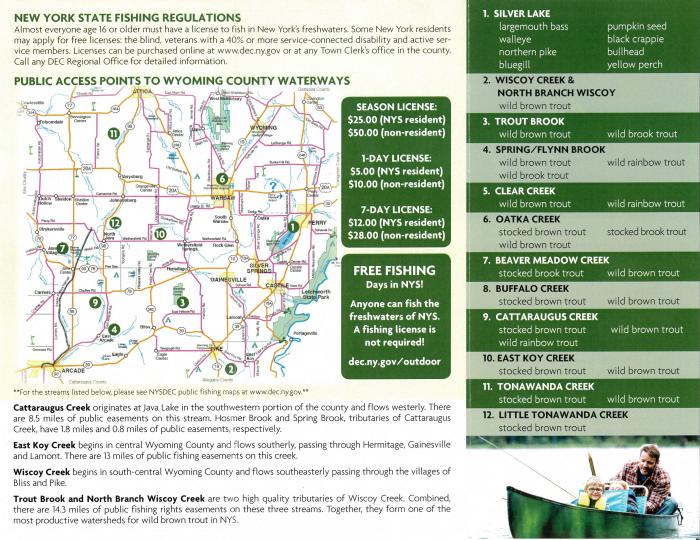 WyCo Fishing Waterways Map

For regular updates on exciting happenings in our community, follow us on Facebook & Instagram - don't forget to tag us using #WyCoApproved!