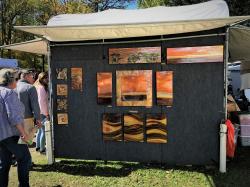 The 2021 Letchworth Arts & Crafts Show & Sale is back - but in a NEW LOCATION. The event is typically held in Letchworth State Park, however this year the event will be held at the Perry Village Park in Perry, NY - approximately 5 miles from Letchworth.
This event will host approximately 200 art & craft vendors from October 9-11, 2021.
Days/Times:
Saturday, October 9: 10-5 p.m.
Sunday, October 10: 10-5 p.m.
Monday, October 11: 10-4 p.m.
For places to stay nearby, visit here, or plan your adventures in and around Letchworth State Park here! We also have an interactive map & trip planner that will help you plan your experience as you stay & play in the area.
Parking
There is no public parking at the Village Park. Customer and additional parking will be at parking lots at the entrances to the village on North Center Street (RT 246), North Main Street (RT 39), and South Main Street (Rt 39). There will be a shuttle service from those lots to the Village Park.
Parking Fee is $10 per car.
Free Bus Shuttles to the park will be available 9:00 - 6:00 pm on Saturday and Sunday, and 9:00am - 5:00pm Monday.
Bus Loop # 1 West Traffic Loop (Buffalo Area Traffic) Rt. 20A to Rt. 246
Green Stop - Pioneer Credit - 20 Parker Lane - 530 parking spots with 12 handicap
Black Stop - Perry High School - 33 Watkins Avenue - 216 parking spots with 10 handicap
Yellow Stop - JN White Design - 129 N. Center Street - 33 parking spots with 2 handicap
Yellow Stop - Bank of Castile - 133 North Center Street - 106 parking spots with 2 handicap
Bus Loop # 2 - East Traffic Loop (Rochester Area Traffic) Rt. 20A/Pine Tavern -Rt. 39
Blue Stop - Perry Commerce Center/ACO/Champion - 200 North Main Street - 400 parking spots
White Stop - Perry Elementary School - 50 Olin Avenue - 194 parking spots with 11 handicap
Bus Loop # 3 - South Traffic Loop (Arcade Area Traffic - Rt. 39)
Red Stop - Charcoal Corral - 7037 Chapman Avenue - 400 parking spots
There will be shuttles to pick visitors up from the parking lot and drive to the park. All buses are handicap accessible. Please note that they do require masks while riding the bus. Visitors will be given a colored wristband coordinating with the area in which they have parked. This will enable quick access to the shuttle designated for that particular area.
Charter buses may drop off their passengers on Lake Street near the Lake Park entrance. Empty buses may then park at the Dept. of Public Works on Federal Street.
Please also note that there are no dogs allowed on buses or at the event. Only service dogs are permitted.
Tweet