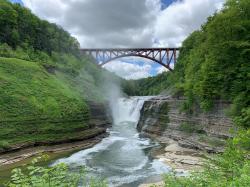 Explore Letchworth State Park, and outdoor activities available in and outside of the park.
Letchworth State Park is throwing its first annual Outdoor Rec Fest to give visitors an opportunity to see and try over 30 ways for all to enjoy the great outdoors at Letchworth.
Outdoor Rec Fest will be Sept. 10, 2022 from 10am to 4pm near the Humphrey Nature Center in Letchworth State Park. There will be snacks, live demonstrations of equipment, how-tos, and guided outings and group activities. There is no attendance fee and no pre-registration required to attend ($10 park fee still applies).
Over the past 10 years, several businesses and services like outdoor outfitters, campgrounds, nature preserves, hospitality destinations, adaptive recreation equipment specialists, and an ADA-compliant nature trail have taken root and grown in the Genesee Valley, rapidly turning the region from a rustic hidden gem into one of New York State's most accommodating outdoor adventure destinations.
This one-day festival assembles over 30 businesses, agencies, and services to be demonstrators and activity leaders for the day. These demonstrators and activity leaders represent just a fraction of the opportunities for all park visitors to hike, kayak, camp, glamp, fish, dine, tree tent, whitewater raft, trail ride, stay in historic estates, explore deep ravines and nature preserves, capture professional-quality images with a phone camera, challenge yourself to become more comfortable in the outdoors, and fly the skies in a hot air balloon. All of these businesses and services are based within 1 hour of Letchworth State Park.
Participating businesses and events include:
The Rochester Birding Association will start with a 'soft start' kickoff birding ID hike at 9am.
Balloons Over Letchworth will have a hot air balloon basket and burner on the grounds for visitors to practice basket entry and exit, and to demonstrate the powerful burner blasts. Due to weather unpredictability, Balloons Over Letchworth will not be flying balloons from the festival grounds.
Endlessly Outdoors Company will finish off the festival with a scenic hike to Middle and Upper Falls, south of the event area.
One of the great minds behind the Autism Nature Trail will give a tour of the one-mile educational sensory and activity trail, which was constructed in Letchworth State Park near the HumphreyNature Center in 2021.
The New York State Department of Environmental Conservation will demonstrate fishing equipment adapted for anglers with special needs.
Silverlaken will have a tree tent set up and chat with patrons about their tiny house village, yurts, and canal house on Silver Lake.
Camp Puzzle Peace will demonstrate some educational outdoor activities that they lead for children with sensory sensitivities on the Autism Nature Trail.
The Rochester Orienteering Club will demonstrate basic compass and map navigation tools and skills on a temporary orienteering course.
Letchworth Farm will demonstrate a horse saddle and some riding gear normally used on trial rides in the park.
Adventure Calls Outfitters will have a raft and gear available for dry-land demos and photo ops.
Letchworth Valley Picnics will set up a sample luxury picnic.
Silver Lake Marine will have a fishing boat on site and answer questions about local fishing.
Dell Collective will set up a sample vignette with some furniture and décor found in their well-known Airbnb, and will answer questions about how to book an Airbnb in the area.
Gallery in the Valley will walk photographers through how to take some technical shots, like swirling water or galaxy shots.
Trail Otter will lead two demonstrations with guided walks, one on purifying water in the backcountry and one on how to properly pack an outdoor backpack.
Click here for more information Outdoor Rec Fest in Letchworth State Park!


2022 Letchworth Outdoor Rec. Fest. Activity Schedule
TIME

ACTIVITY

LEADER

9:00am

Kick-off Bird Walk

Leah Mould,
Rochester Birding Association

10:15am

Monarch Butterfly Release

Lucienne Nicholson,
Inclusive Woods & Us

10:45am

Intro to Orienteering

Kathy Bannister,
Rochester Orienteering Club

11:15am

Intro to Disc Golf

Brianne Blaszak,
Endlessly Outdoors Company

11:45am

How to Take a Better Cell Phone Picture Outdoors

Dick Thomas,
Dick Thomas Photography

12:15pm

Intro to Geocaching

Marty Demarte,
LivCo Geocaching

12:45pm

How to Pack for the Backcountry

Bill Waterhouse,
Trail Otter

1:15pm

Nature Photography
Tips & Tricks

Keith Walters,

Gallery in the Valley

1:45pm

How to Use Your Backcountry Gear

Bill Waterhouse,
Trail Otter

2:15pm

Intro to Kayaking Demo

Amanda Jerome,
U.S. Army Corps - Mt. Morris Dam

3:00pm

"Forest Bathing"

Mary Ronan,
Reinstein Woods Nature Preserve
Tweet