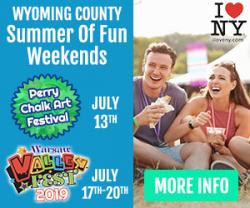 Start Date:
July 13, 2019 12:00am
End Date:
Location:

Perry Chalk Art Festival, July 13 - Village of Perry
Warsaw Valley Fest, July 17-20 - Village of Warsaw
Come enjoy back-to-back weekends of family fun, arts & culture and excitement in Wyoming County!
On July 13 from 8am - 4:40pm, enjoy the Perry Chalk Art Festival on Main Street, in the heart of the Village of Perry.
Perry Chalk Art Festival - Saturday, July 13, 8:30am-2pm
Experience talented chalk artists from across the country showcasing their craft along Main Street in Perry. The theme of this year's Festival is "small." There will be music, games and plenty of opportunity for kids and adults to try their hand at chalking - no experience necessary - just a desire to have fun and be creative! Come out and enjoy this unique and exciting festival!
The artist recognition, prizes and closing ceremony takes place from 4-4:30pm.
Other activities taking place alongside the Chalk Art Festival include:
Perry Farmers' Market - 8:30am-1pm
Enjoy fresh produce, meats, cheeses, pastries, fresh cut flowers, and more!
Borden Avenue, Downtown Perry
See more at Perry Farmers' Market's Facebook page!
Perry Public Market - 8:30am-4pm

Enjoy a wide selection of vendors offering unique, handmade goods.
Main Street, Downtown Perry
Taste of Summer Fine Dining Event - 12noon-2:30pm
For three tickets per taste, festival-goers get a sample of a succulent seasonal dish created by regional chefs and inspired by the freshest of local ingredients.
Ten (10) area restaurants and craft beverage businesses participating!
Lake Street, Downtown Perry
Live music, tickets required (can be purchased online or at the event)
---
On July 17-20 in the Village of Warsaw, it's Warsaw Valley Fest!
Warsaw Valley Fest - July 17-20 (see below for times)
Enjoy downtown Warsaw with town-wide yard sales, craft show, music, food and more! The following activities will take place Thursday through Saturday, with special events on these days listed below:
Community Yard Sales & Merchant Sidewalk Sales - Thursday-Saturday
Vendor tents and sales - Thursday-Saturday
Food available at local restaurant and at Valley Fest Vendors - Thursday-Saturday
Warsaw Public Library Book Sale Thursday (9am-7pm), Friday (9am-5pm) & Saturday (9am-12pm)
Wednesday July 17
Thursday July 18
Enjoy community yard & merchant sales all day long!
Friday July 19
A Guided Walking Tour of the Downtown Warsaw Historical District 5:30-7:30pm
FRIDAY FAMILY FUN NIGHT at Liberty Way!
Saturday July 20
Kid's Day!
Kid's Games Sponsored by GVFCU
Pottery Open Paint 10am-1pm @ The Pottery Place
Seneca Park Mobile Zoo 11am-1pm @ Dance Creations, 4 N. Main Street (Sponsored by PML Engineering Mold Solutions LLC)
Annual YMCA Duck Derby 12noon-2pm @ Liberty Way including a Bounce House!
Guided Walking Tour of the Downtown Warsaw Historical District 2-4pm (starts at the Warsaw Historical Society)
Free Movie "Trolls" @ Spotlight Theater 3:30pm
Live Music – June & Johnny Cash 6-10pm @ Rock N' Roll BBQ
Tweet