2023 Letchworth Arts & Crafts Show & Sale
The Letchworth Arts & Crafts Show & Sale is one of the premier artisan festivals in the country – taking place October 7-9 in Perry, NY – minutes from beautiful Letchworth State Park, home of the Grand Canyon of the East!
Voted by Sunshine Magazine, as the 12th best Classic and Contemporary Craft Show in the nation, experience over 200 arts & crafts vendors from across North America in a serene outdoor setting.
In addition to the many vendors, enjoy live entertainment, delicious food and a quaint rural community brimming with boutique shops.
Come experience the foliage and enjoy an amazing Autumn adventure a short trek from Niagara Falls & the Finger Lakes!
Days/Times:
Saturday, October 7: 10-5 p.m.
Sunday, October 8: 10-5 p.m.
Monday, October 9: 10-4 p.m.

Event Map & Vendor List:
Find artists, activities, food & more at Letchworth Arts & Crafts 2023!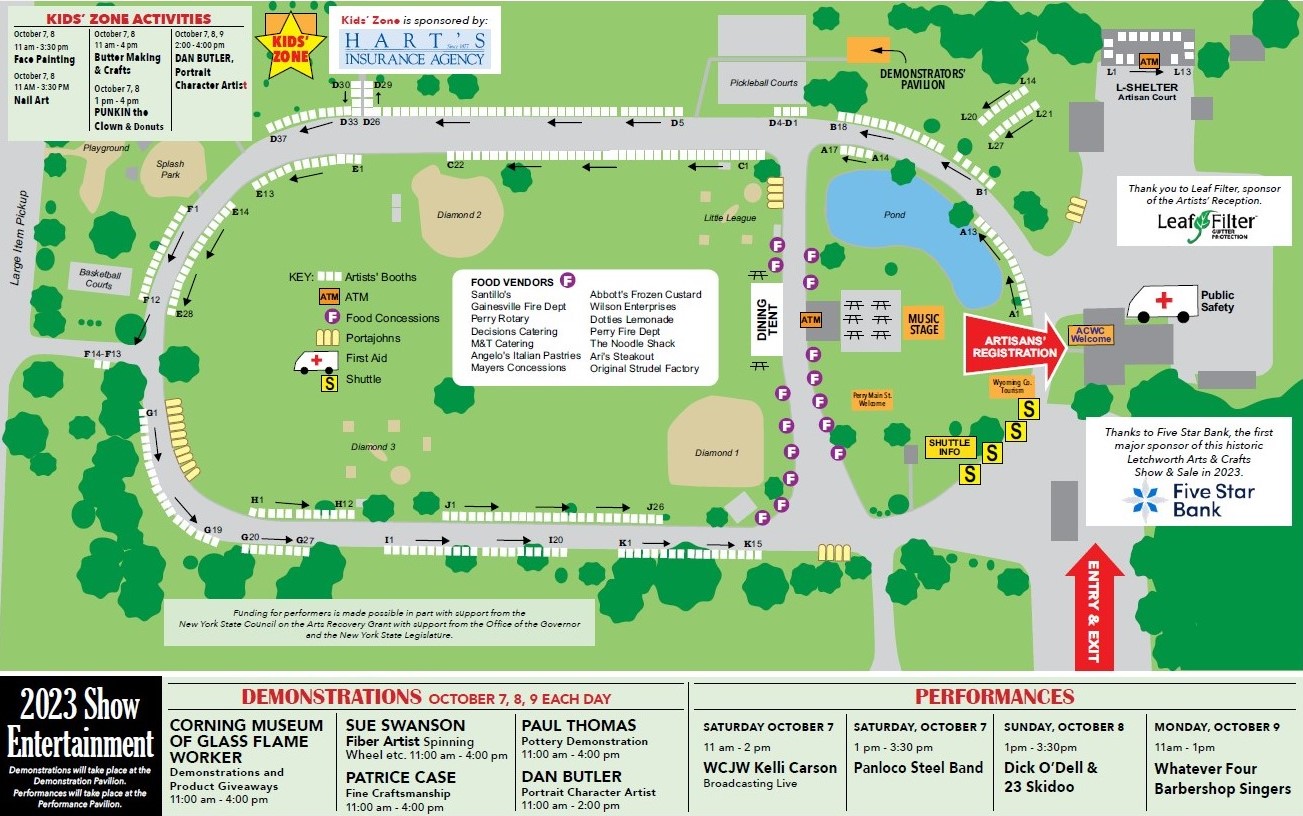 2023 LACS Vendor List (78.88 KB)

Click here for a list of all participating 2023 Letchworth Arts & Crafts Sale Vendors!

About The Venue
The Letchworth Arts & Crafts Show & Sale, is held in the Village of Perry, at the Village Park - 120 Lake Street. Perry Village Park offers playground equipment, two basketball courts, five tennis courts (two striped for pickleball), baseball and softball diamonds, a Splash Park in the summer (11:00AM-8:00PM), and more.
Park amenities are organized around a half-mile paved oval track with a designated bike lane that is safe for bikers, walkers and runners as well as two covered pavilions with picnic tables that may be reserved for day use.
Village kids, young and not-so-young, enjoy fishing at the park pond.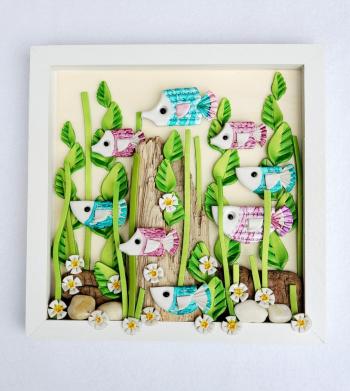 Parking at the Letchworth Arts & Crafts Show
There is no public parking at Perry Village Park. Customer and additional parking will be at parking lots at the entrances to the village on North Center Street (RT 246), North Main Street (RT 39), and South Main Street (Rt 39). There is a $10.00 parking fee which also gives access to the shuttle service from those lots to the Village Park.
Designated Visitor Parking Areas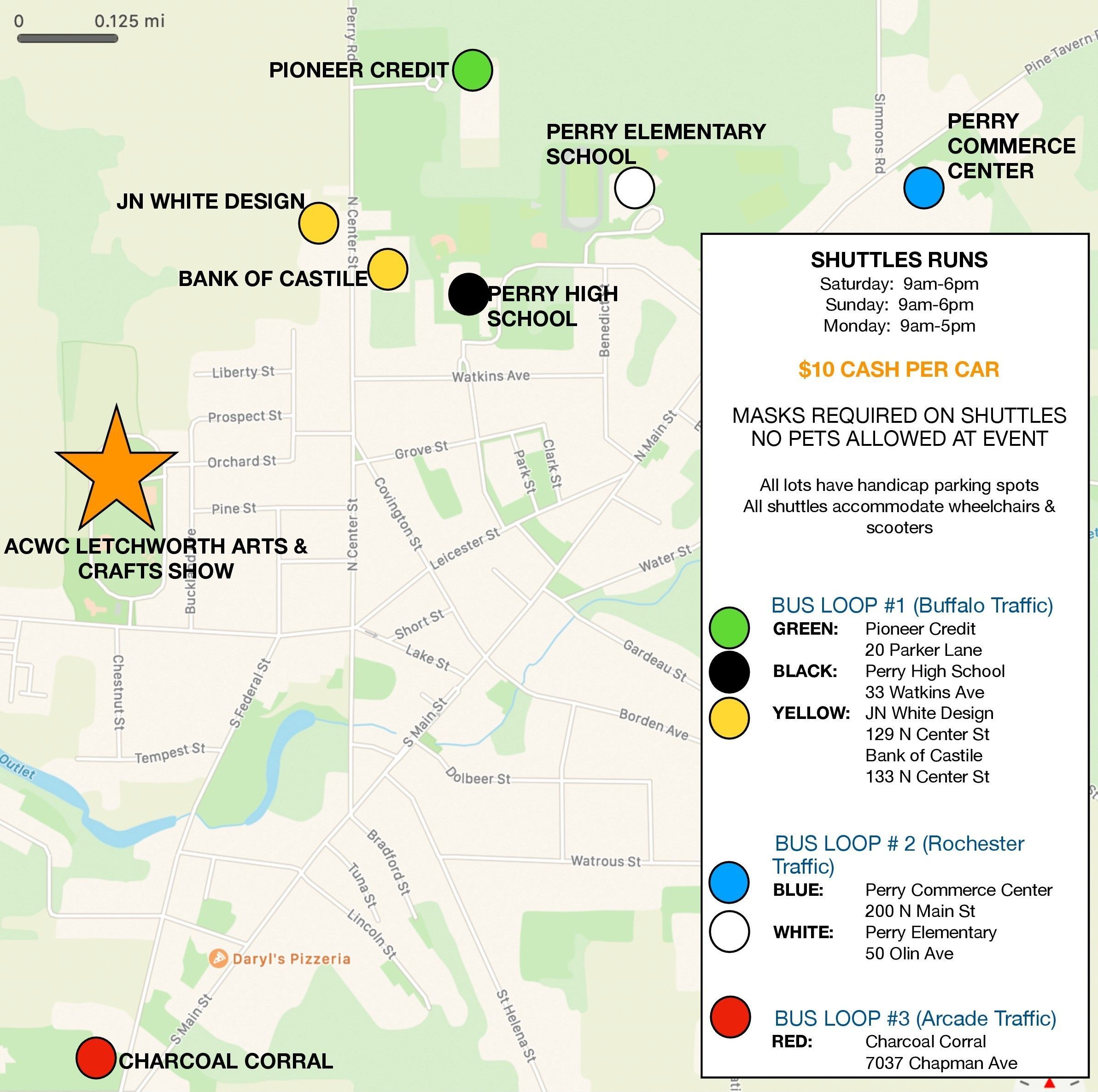 Parking Fee is $10 per car.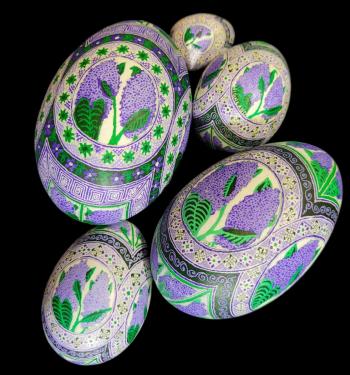 Bus Shuttles To The Event
Free Bus Shuttles to the park will be available 9:00 - 6:00 pm on Saturday and Sunday, and 9:00am - 5:00pm Monday.
There are three bus loops, they are:
Bus Loop # 1 West Traffic Loop (Buffalo Area Traffic) Rt. 20A to Rt. 246
Green Stop - Pioneer Credit - 20 Parker Lane - 530 parking spots with 12 handicap
Black Stop - Perry High School - 33 Watkins Avenue - 216 parking spots with 10 handicap
Yellow Stop - JN White Design - 129 N. Center Street - 33 parking spots with 2 handicap
Yellow Stop - Bank of Castile - 133 North Center Street - 106 parking spots with 2 handicap
Bus Loop # 2 - East Traffic Loop (Rochester Area Traffic) Rt. 20A/Pine Tavern -Rt. 39
Blue Stop - Perry Commerce Center/ACO/Champion - 200 North Main Street - 400 parking spots
White Stop - Perry Elementary School - 50 Olin Avenue - 194 parking spots with 11 handicap
Bus Loop # 3 - South Traffic Loop (Arcade Area Traffic - Rt. 39
Red Stop - Charcoal Corral - 7037 Chapman Avenue - 400 parking spots
There will be shuttles to pick visitors up from the parking lot and drive to the park. All buses are handicap accessible. Visitors will be given a colored wristband coordinating with the area in which they have parked. This will enable quick access to the shuttle designated for that particular area.
Charter buses may drop off their passengers on Lake Street near the Lake Park entrance. Empty buses may then park at the Dept. of Public Works on Federal Street.
Please also note that there are no pets allowed on buses or at the park. Only service animals are allowed.
---
Eat, Play & Stay