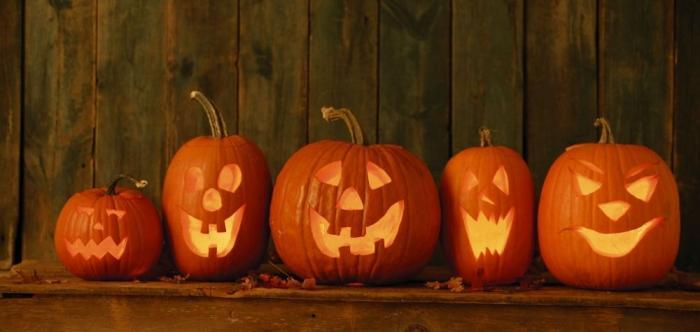 Halloween is nearly here, and we have rounded up plenty of ghoulish adventures for you to enjoy this year - most of them family friendly - with a few spooky gems sprinkled in for good measure. If you're in it for the candy, or just looking for scares - this is the list for you!
Attica Trunk Or Treat
October 21, 2-4pm
A free event at Attica Veterans Memorial Park. Enjoy basket raffles, prices and candy! To sign up or learn more email. Benefits the 7th Grade Agriculture project.
---
Varysburg's Scary in the Burg
October 21, 5-9pm
Wear your favorite costume to Scary in the Burg at the Varysburg Fire Hall. Enjoy a fun-filled family Halloween party, featuring "The Haunted Garage," hayrides, treats, raffles, games and crafts for the kids. Food available for purchase!
---
Arcade Trunk Or Treat
October 26, 5-7pm
The Arcade Elementary invites you to the Arcade Village Park for Trunk or Treat! Enjoy treats, games, activities, doughnuts & cider, popcorn and much more! Benefits the Home and School Association.
---
Wyoming Harvest Moonlight Dinner & Concert
October 27, 6pm
Come to the Wyoming Village Hall for the Harvest Moonlight Dinner & Concert! Proceeds to benefit the Village Hall. Music by the Stray Dogs, wine & beer, Tree Hugger hard cider sampling, soup, chili and mac & cheese for purchase. T-shirts available!
---
Warsaw Trunk Or Treat
October 29, 4:30-7pm
Visit the Warsaw Village Park and enjoy food trucks, candy, prizes and a 50/50 raffle. Presented by Warsaw Fire Dept. and Rescue Squad. Bring a canned good for the food pantry.
---
Perry Trick Or Treating On Main Street
October 31, 4-6pm
Please join us for the fun Tues., October 31 from 5 PM to 6 PM with Trick or Treating on Main Street. Followed by the annual Fire Departments Costume Parade at 6 PM.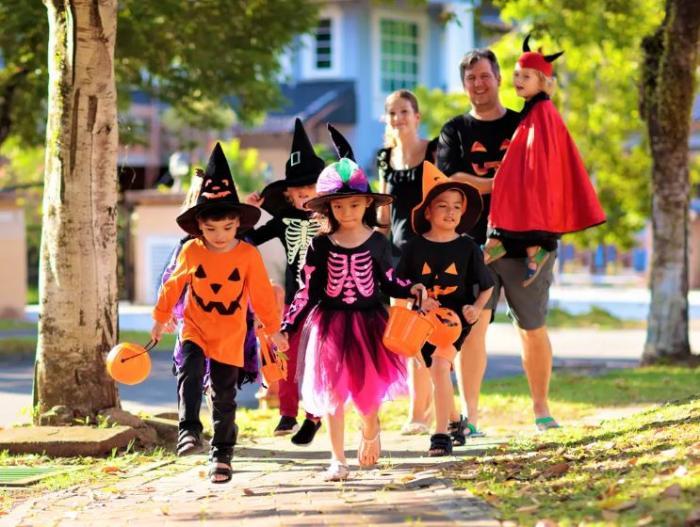 Spooky Improv with THE JOSHES
October 28, 7-8:30pm
The season premiere of Improv@37 featuring a spooky-themed Halloween improv comedy show with THE JOSHES!
Come see long-form improv, where you provide a suggestion, THE JOSHES improvise 3 spooky improv tales of terror from that suggestion, then play them out before your very eyes! Tickets are $20 or Pay What You Can, and can be purchased online via Eventbrite, or at the door! Click here for deets.
---
Haunted Halloween Express on the Arcade & Attica Railroad
October 28-29, at 11AM & 2pm
Enjoy a spooky round-trip train excursion on the Arcade & Attica Railroad, starting at the train station! At the halfway point, you depart the train at Curriers Station, where you can enter the haunted house (if you dare!). Kids' activities and concessions are offered. Restrooms are available on location. Costumes encouraged!
---
Tri-County Kiwanis Club of WNY Halloween Party
October 31, 5:30-7:30pm
Indoors at the Delevan Fireman's Training Center (1006 N. Main Street, Delevan) from 5:30-7:30pm on Halloween Night, October 31st. Enjoy Halloween games, food, drinks, costume parade, photo ops, and more! Fun for all ages & completely free for the community!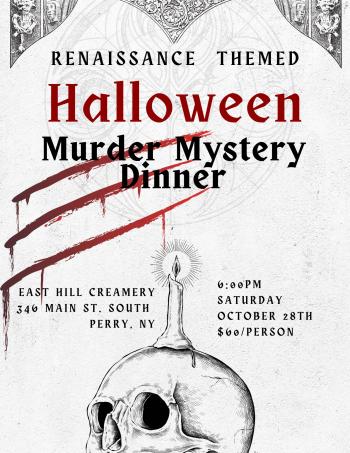 Murder Mystery at East Hill Creamery

East Hill Creamery in Perry Presents: Halloween Murder Mystery Dinner
October 28, from 6pm-9pm
Join East Hill Creamery in Perry for a Renaissance-themed Halloween Murder Mystery. Performed by WNY Improv with dinner catered by Old Souls Catering - join us for an unforgettable evening of deception and drama as you uncover secrets, unmask suspects and revel in the glory of the renaissance era. Book your tickets now and prepare for a night of mystic & mayhem. It will be a dinner to die for!
Buffet Menu:
Appetizer: East Hill Cheese Board
Vegetable Soup
Caesar Salad
Garlic Herb Chicken
Prime Rib
Garlic Smashed Potatoes
Vegetable Medley
Dessert: Apple Crisp & Ice Cream
Cash Bar featuring beer from local breweries, cider from Buried Barrel & Three Falls, and Finger Lakes wines! Soda, milk, coffee and tea will also be available for purchase. (All major credit cards accepted.)
Tickets can be purchased here.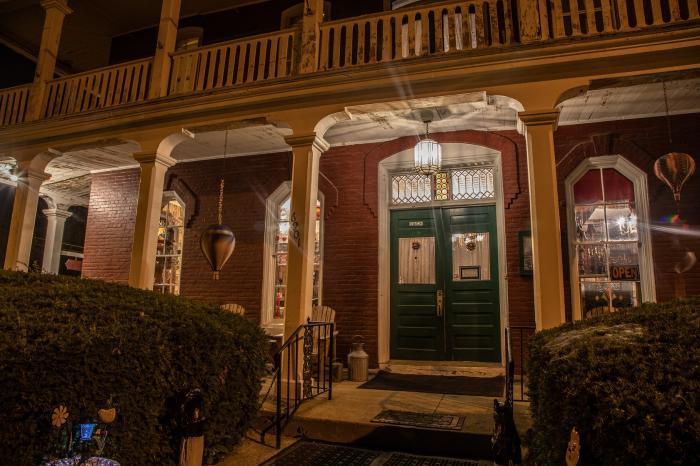 Genesee Falls Inn

Spend The Night With Ghosts
Genesee Falls Inn in Portageville is located next to Letchworth State Park, and offers more than a comfortable bed and delicious breakfast. In fact, many guests express getting a strange feeling upon entering the building, built in 1870. Previously, the building was an inn with a restaurant where people gathered to have a good time, and on the third-floor ballroom men often practiced bare-knuckle fighting.
Guests to the bed and breakfast report hearing people walking up and down the hallways at night or doors shutting on their own. The building's current owners have witnessed a young child walking through the kitchen in period dress, and a man sitting in one of the bedroom's chairs. It's also common for items to go missing and, following a request for the spirits to return them, they are put back in their rightful spot. Paranormal groups say the building is pretty active and have watched their flashlights turn on and off when prompted.
The reason for the paranormal occurrences? There are many places to point fingers: fires, suicides, even a drowning. The current inn sits on the same property where two prior buildings had burned down. It's also the same residence where a family lived - one that had a strong history of suicide. None of the family members died in the building itself but many took their lives in the nearby waterfalls. More recently, the inn's caretaker passed away in the building. Although it's been over two years since his passing, the caretaker remains protective of him room by closing the door and locking it.
Close to Genesee Falls Inn sits a colonial cemetery – the final resting place of many civil war soldiers and a 7-year-old boy that drowned in the nearby Genesee River. The cemetery was once obliterated by a flood and re-erected by a neighbor. Could the disruption to the graves have disturbed the souls as well? Come visit to see for yourself.
This Victorian-era bed and breakfast has 11 renovated rooms available for overnight visits. Being a half-mile away from Letchworth State Park makes it an ideal location from spring to fall. Visitors are also welcome to stop in during normal business hours to walk around or call ahead to schedule a ghost tour for 1-10+ guests. Paranormal groups are also invited to explore, with an appointment.
Genesee Falls Inn is also a pet-friendly accommodation - learn more here.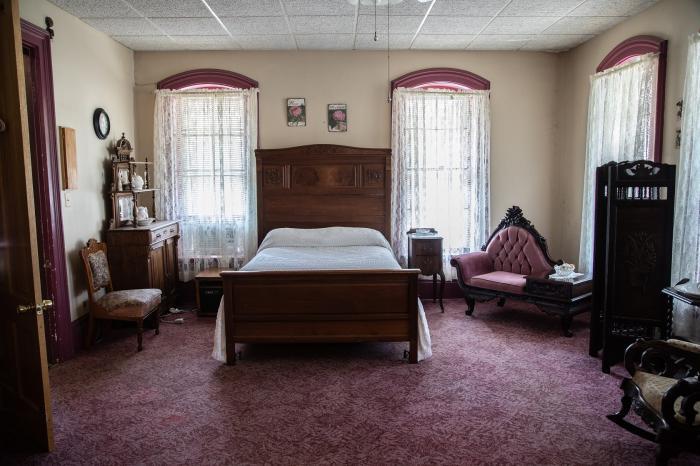 Genesee Falls Inn
Follow us on Facebook & Instagram for regular updates on exciting happenings in our community.