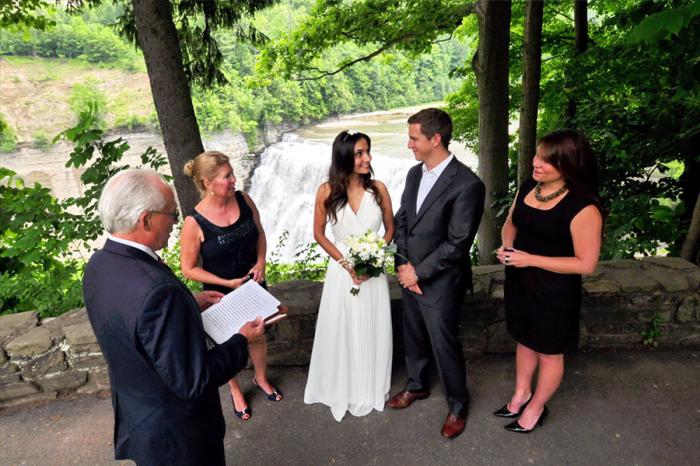 Weddings on the Letchworth State Park Grounds:
Want to plan your wedding at Letchworth State Park? Here is everything you need to know to create an unforgettable day for you and your special someone!
LOCATION: You can choose many locations within Letchworth for your ceremony. We suggest that you select a location where there will be ample parking for your guests as well as comfort station facilities for their convenience. Once you have chosen a date, time and location, please contact the Visitor Center at (585) 493-3600 with your choice. This way the park can do their best to avoid conflicts between groups that may also be planning to use the same area.
SHELTERS: There are reservable picnic shelters in the park. Prices vary based on size and amenities. Contact Reserve America for reservations via website Reserve America or by calling 1-800-456-2267.
Please note: Patrons cannot be excluded from any public area of the park. All flowers for weddings must be removed to prevent seeding of invasive species.
---
PERMITS: Daily Permits are required for the following items:
Catering: If you choose a caterer other than the Glen Iris Inn (585) 493-2622, you must obtain a catering permit. The caterer permit fee is $25. Carry-in carry-out regulations for waste disposal apply. Contact the park at (585) 493-3600 for a copy of the Caterer Permit for specific regulations regarding outside caterers.
Alcoholic Beverages: A permit is required for all alcoholic beverages brought into the park. No alcoholic beverages may be served to or consumed by minors (those under 21). The alcoholic beverage permit fee is $25. Contact the park at (585) 493-3600 for a copy of the Alcoholic Beverage Permit for specific regulations regarding alcoholic beverages.
Music: A permit is required for all amplified music. Musical groups shall perform only between 9:00 am and 10:00 pm. The music permit fee is $25. Contact the park at (585) 493-3600 for a copy of the Musical Performance Permit for regulations regarding musical groups and/or DJ's.
Tent: A permit is required to set up a tent in the park. Locations must be approved no later than two weeks in advance of the reservation by the Park Manager. Tents are allowed only in conjunction with shelter reservations. The tent permit fee is $25. Contact the park at (585) 493-3600 for a copy of the Tent Permit for regulations regarding tents.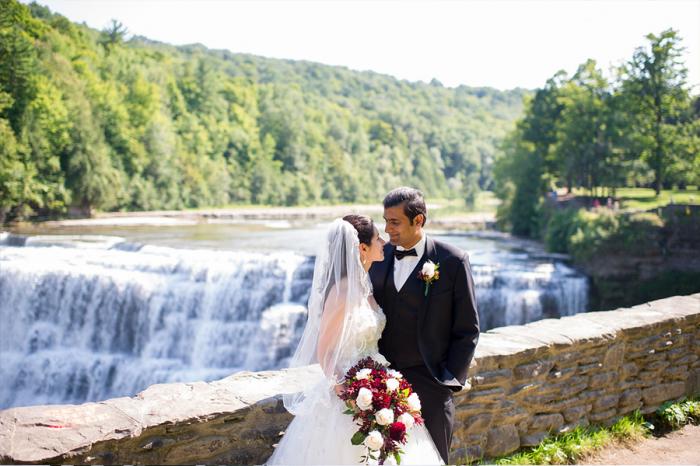 ---
VEHICLE ENTRANCE FEES: All vehicles entering the park are subject to the $10/car vehicle use fee this will include flower deliveries, clergy, caterer, musical performers, etc.
A Limo may be considered a bus ($75 vehicle use fee) if the seating capacity is more than 15 people including the driver. Please contact the park for advance gate tickets. These tickets are $10 each and are non-refundable. Payment must be made in advance.
SIGNS: Posting of signs is not permitted. If arrangements have been made with the Visitor Center, all entrance gates will be advised of the location you have chosen for your wedding. Please have guests check with the gate attendant for directions.
Please note: Peak Leaf Season – Columbus Day weekend and the following weekends. On these weekends traffic is very slow and congested due to the volume of vehicles. Park Management may close portions of the park due to congestion/overcrowding.
Contact the park at (585) 493-3600 regarding any other events taking place in Letchworth on the day of your wedding to ensure availability of certain sections/locations within the park.
---
Weddings at the Glen Iris Inn:
You can also hold your special day at the Glen Iris Inn!
Formerly the country estate of William Pryor Letchworth, the Glen Iris Inn has welcomed guests as a country inn since 1914. The Inn overlooks magnificent Middle Falls on the Genesee River and is surrounded by the natural beauty of Letchworth State Park. The Glen Iris Inn and Letchworth State Park are beautiful settings for your wedding.
The wedding site is located directly in front of the Inn overlooking Middle Falls. Fees include includes power capability for musicians, staff to assist in coordinating your event, and the use of the parlor and gardens for picture taking. Wedding ceremonies may only be held at the Glen Iris Inn in conjunction with a reception.
The ceremony times are flexible but all events must conclude by 10:00pm. Rehearsal times must be scheduled with the wedding coordinator. There will be a one-hour time frame available for a rehearsal.
In case of inclement weather, ceremonies of up to 30 guests in attendance will utilize the parlor or veranda as alternative sites. If more than 30 guests, the tent on the South Lawn will serve as an alternate site. The tent can also be utilized as an alternate site for a ceremony, when not being utilized for the reception for an additional fee.
Click here for information concerning menus, packages, policies and prices - or call (585) 493-2622.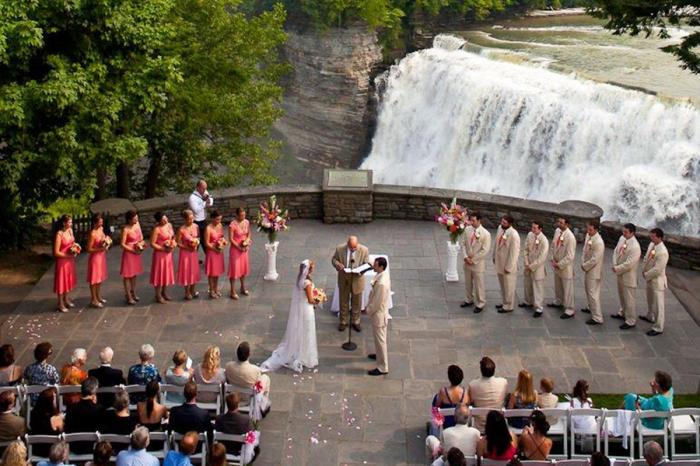 ---
Nearby Wedding Venues, Accommodations & Activities
Looking for places to hold your wedding near the park? Here is a list of venues & facilities that can help you plan the perfect day, minutes from Letchworth State Park!
Overnight accommodations are right nearby - check out this list of hotels, inns, lodges & more so your guests can share your wedding day with you.
Need a list of fun things to do for you and your guests before and after the big day? We're here to help you with this list of fun activities, craft beverage spots, attractions & more!